Spaulding Youth Center Honored with $10,000.00 Grant from People's United Community Foundation
February 21, 2019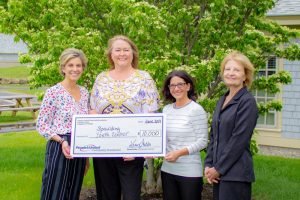 Spaulding Youth Center is thrilled to announce it has been honored with a grant of $10,000.00 from People's United Community Foundation, the philanthropic arm of People's United Bank, N.A. The grant will directly support Spaulding's residential program.
Spaulding Youth Center's Residential Program focuses on therapeutically supporting children while fostering the fundamental philosophies of a family unit. The grant presented by People's United Community Foundation will support Spaulding's goals of providing comfortable, welcoming and home-like environment for its residential students. Funds from this grant will help to cover the cost of new furnishings in three common areas of one of the organization's five residential cottages.
"The generous support of People's United Community Foundation will make an incredible impact in the lives of the children living on campus," said Susan C. Ryan, President & CEO of Spaulding Youth Center. "Funding for this type of need can be difficult to come by and providing our children with a restful and relaxing common area to unwind after a school day is an important part of our residential students' daily routines. At a time in life where these kids can be at their most vulnerable, providing them with a comfortable place to live shows them they are important, cared for and loved. We are truly grateful for People's United's support."
About Spaulding Youth Center
Spaulding Youth Center is a leading provider of services for children and youth with neurological, emotional, behavioral, learning and/or developmental challenges, including Autism Spectrum Disorder and those who have experienced significant trauma, abuse or neglect. Services include academic, behavioral health, residential, foster care, health and wellness and family support. Spaulding Youth Center is a tax-exempt 501(c)(3) nonprofit. For information about Spaulding Youth Center, visit www.spauldingyouthcenter.org.
About People's United Community Foundation
People's United Community Foundation helps support programs and activities that enhance the quality of life for citizens in the communities that People's United Bank serves. People's United Bank, N.A. is a subsidiary of People's United Financial, Inc. (NASDAQ: PBCT), a diversified financial services company with approximately $48 billion in assets. People's United Bank, founded in 1842, is a premier, community-based, regional bank in the Northeast offering commercial and retail banking, as well as wealth management services through a network of more than 400 retail locations in Connecticut, New York, Massachusetts, Vermont, New Hampshire and Maine. Visit https://www.peoples.com to learn more about the People's United Bank Charitable Giving programs.
Interested in Learning More About Our Vibrant Campus?
If you are interested in an insider's view of a day in the life of Spaulding Academy & Family Services, we recommend visiting our online photo gallery or our video gallery. These are updated weekly so keep checking back for more great Spaulding moments!