Spaulding Youth Center Holds Winter Carnival Celebration
March 06, 2019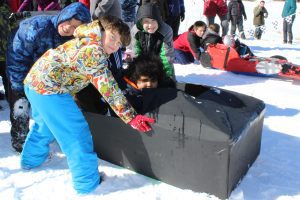 Spaulding Youth Center celebrated its annual Winter Carnival as part of their Experiential Challenges Outdoors (EChO) program last Thursday. This year's Winter Carnival introduced a Famous Races theme and offered a wide array of exciting activities and events for students and staff.
The celebration began with a selection of snow-inspired carnival games, including a Penguin Waddle Playoff, Three-Legged Snowshoe Race, Cycling Snow Croquet, a Snowball Biathlon, Snow Painting, a Snow Luge and of course sledding and snowboarding. After taking a turn at the organized themed activities, classrooms assembled to race their custom-designed and hand-constructed cardboard sleds in the much-anticipated derby races. The carnival concluded with a traditional cold-weather refreshment lineup of hot chocolate and cookies.
On Friday, the students were invited to a meet and greet with a dog sled team. Each classroom visited with the team and learned about this legendary outdoor winter sport. The dog team even provided a demo so that the children could see exactly how a team operates. Not only did the kids enjoy meeting these friendly and hard-working canines but witnessing their dedication to working together toward a common cause was inspirational.
"The Winter Carnival is a fantastic opportunity for the kids to embrace outdoor winter activities right on our scenic Northfield campus," said Jason Sterner, EChO Outdoor Education Coordinator. "Our EChO program provides our students with valuable learning experiences while participating in activities that contribute positively to their physical and emotional health as well as self-esteem. We are thrilled to offer these unique activities as an extension to the winter outdoor curriculum that is part of our unique program. Perhaps most importantly, the kids love it!"
The EChO program at Spaulding Youth Center was built on the belief that every student should have the opportunity for the kind of growth that comes from real adventure. With carefully-planned and designed activities as well as cutting-edge adaptive equipment and techniques, students learn to embrace challenges and take positive risks in a variety of year-round outside activities. To learn more about Spaulding's EChO program, visit /programs-services/experiential-challenges-outdoors/.
About Spaulding Youth Center
Spaulding Youth Center is a leading provider of services for children and youth with neurological, emotional, behavioral, learning and/or developmental challenges, including Autism Spectrum Disorder and those who have experienced significant trauma, abuse or neglect. Services include academic, behavioral health, residential, foster care, health and wellness and family support. Spaulding Youth Center is a tax-exempt 501(c)(3) nonprofit. For information about Spaulding Youth Center, visit www.spauldingyouthcenter.org.
Interested in Learning More About Our Vibrant Campus?
If you are interested in an insider's view of a day in the life of Spaulding Academy & Family Services, we recommend visiting our online photo gallery or our video gallery. These are updated weekly so keep checking back for more great Spaulding moments!