Spaulding Youth Center Holds Winter Carnival Celebration
March 04, 2020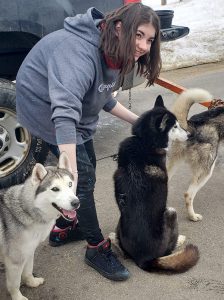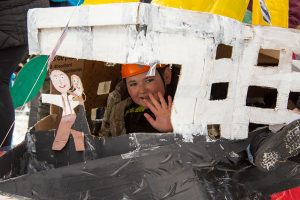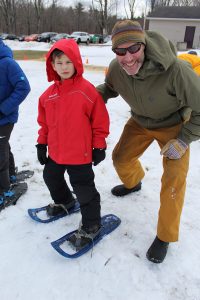 Manchester, NH – Spaulding Youth Center recently celebrated its annual Winter Carnival as part of their Experiential Challenges Outdoors (EChO) program. This year's Winter Carnival introduced an Under the Sea theme and offered a wide array of exciting activities and events for students and staff.
The weeklong celebration began with a live animal outreach exhibit led by staff from Squam Lakes Natural Science Center. Students enjoyed an interactive presentation featuring New Hampshire's wildlife. The following day, Spaulding students eagerly attended a meet and greet with a local dog sled team. Each classroom enjoyed a hands-on visit with the team and learned about this adventurous outdoor winter sport. The dog team even provided a demo so that the children could see exactly how a team operates.
Festivities concluded on Friday as students and staff prepared for the much-anticipated annual winter sled derby. Classrooms excitedly assembled to race their custom-designed and hand-constructed cardboard sleds. Sleds were under construction as part of classroom curriculum over the past month and designs were comprised of Under the Sea themes including sharks, fish and decorations based on movies like The Little Mermaid, Finding Nemo and Free Willy. The carnival also included themed games, such as narwhal ring toss, mermaid marathon, feed the shark, squid inking, as well as cold weather treats, such as hot chocolate and cookies.
"Students and staff members look forward to the Winter Carnival festivities every year," said Jason Sterner, EChO Outdoor Education Coordinator. "Our EChO program provides our students valuable learning experiences while simultaneously providing the memorable adventures, childlike wonder and wholesome fun that comes with the great outdoors. Our scenic campus is the perfect place for students to participate in these types of activities that positively impact their physical and emotional health."
The EChO program at Spaulding Youth Center was built on the belief that every student should have the opportunity for the kind of growth that comes from real adventure. With carefully-planned and designed activities as well as cutting-edge adaptive equipment and techniques, students learn to embrace challenges and take positive risks in a variety of year-round outside activities. Visit our website to learn more about Spaulding's extraordinary EChO program: /echo/.
About Spaulding Youth Center
Spaulding Youth Center is a leading provider of services for children and youth with neurological, emotional, behavioral, learning and/or developmental challenges, including Autism Spectrum Disorder and those who have experienced significant trauma, abuse or neglect. Services include academic, residential, clinical, community based, foster care, and family support. Established in 1871 and known as Spaulding Youth Center since 1958, our scenic hilltop campus is located on over 500 acres in Northfield, NH and welcomes boys and girls from ages 4 to 21 from around the state of New Hampshire and beyond. Spaulding Youth Center is a tax-exempt 501(c)(3) nonprofit. For information about Spaulding Youth Center, visit www.spauldingyouthcenter.org.
Interested in Learning More About Our Vibrant Campus?
If you are interested in an insider's view of a day in the life of Spaulding Academy & Family Services, we recommend visiting our online photo gallery or our video gallery. These are updated weekly so keep checking back for more great Spaulding moments!