Spaulding Youth Center Holds End-of-Year Field Day and Awards Ceremony
June 28, 2018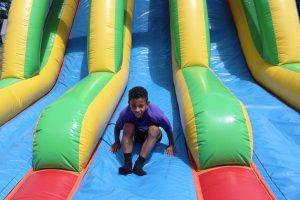 Spaulding Youth Center recently held its annual Spaulding Field Day to celebrate another successful end to the traditional school year. Students and staff enjoyed a beautiful, sunny day filled with exciting outdoor activities, such as an inflatable obstacle course, gaga ball, tug-of-war, water balloon slingshot, sack races, hula hooping, basketball, slip and slide, and more. Students and staff alike enjoyed this fun celebration which was the embodiment of how Spaulding Youth Center truly embraces the goal that every child deserves a childhood full of fun and cherished memories.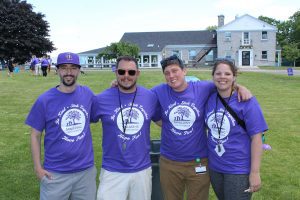 New this year, all staff and children were invited to wear provided purple shirts celebrating our commitment to incorporate Trust-Based Relational Intervention® (TBRI®) into every level of the organization – from the classrooms to the dining hall to the residential cottages and including the playgrounds, community outings, and visits with families and caregivers. These shirts were coupled with coordinating signs communicating basic TBRI principles: Be Kind, Stick Together, Have Fun, Connect, and Empower. The field day was a coordinated and harmonized presentation of our campus-wide dedication to this holistic, evidence-based, trauma-informed method of caregiving.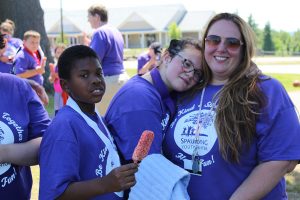 As the event concluded, every child received a participation medal. Special thanks to Metrocast Foundation who made a generous financial donation specifically for field day, an event they have supported for the past several years, to provide a sweet treat for every child at the annual celebration.
The following day, students and staff gathered in the community center for the annual Academic Awards Ceremony. This celebration is the culmination of all academic and personal successes students achieved throughout the year and many families and friends join us on campus to participate in this inspirational afternoon. Spaulding students were recognized for their academic efforts and accomplishments, receiving trophies for:
Elementary Student of the Year
Middle School Student of the Year
High School Student of the Year
Elementary Most Improved Student of the Year
Middle School Most Improved Student of the Year
High School Most Improved Student of the Year
Spaulding staff also received acknowledgements for their outstanding work. The honorees this year included:
Teacher of the Year: Scott Dunlop
Related Service Provider of the Year: Rebecca Hemmer
Teaching Associate of the Year: Monique Jenifer
Support Staff of the Year: Michael Schaffnit
Commemorative medals were also presented to 12 classroom students of the year and 12 most improved classroom students of the year.
"These two days are a highlight for everyone on campus, from our youngest children to our most veteran staff," shared Susan C. Ryan, President & CEO of Spaulding Youth Center. "Each activity during both events demonstrated the deeply healing concepts of having fun, working together and enjoying a safe environment. Although everyone enjoyed these two days of celebration, the very core of our intensely therapeutic environment was truly embraced by everyone who attended. I could not be prouder of all that the students have achieved in the last year and the staff who strive to make these successes a reality every day all year long."
The Spaulding Youth Center provides instruction year-round on our therapeutic campus in Northfield, New Hampshire. The summer instructional session begins July 9th.
About Spaulding Youth Center
Spaulding Youth Center is a leading provider of services for children and youth with neurological, emotional, behavioral, learning and/or developmental challenges, including Autism Spectrum Disorder. Services include academic, behavioral health, residential, foster care, health and wellness and family support. Our mission is supporting exceptional children and families toward a successful future. Spaulding Youth Center is a tax-exempt 501(c)(3) nonprofit. For information about Spaulding Youth Center, visit www.spauldingyouthcenter.org.
Interested in Learning More About Our Vibrant Campus?
If you are interested in an insider's view of a day in the life of Spaulding Academy & Family Services, we recommend visiting our online photo gallery or our video gallery. These are updated weekly so keep checking back for more great Spaulding moments!