Spaulding Youth Center Celebrates Ribbon Cutting for New Special Education Playground
November 20, 2015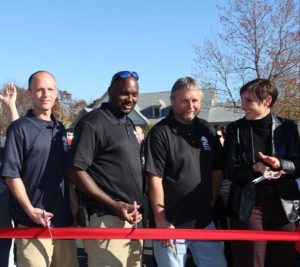 Spaulding Youth Center proudly announces the opening of Phase 1 for our newest and most advanced playground, designed specifically for our students and youth. This playground is conveniently located outside the Spaulding School, adding a new feature to the 470 acre scenic and rural campus. This new playground was fully funded by our dedicated and generous supporters.
The annual Swing Into Spring breakfast in April 2015 provided necessary funds to design and purchase this special education playground, essential for the student and youth on the Spaulding Youth Center campus. During and following this annual breakfast, over 80 local business owners, community leaders and dedicated supporters contributed to make this critical initiative a reality. As part of this year's Swing Into Spring presentation, Jennifer Benjamin, one of Spaulding's Occupational Therapists, shared insight earned from her experience in the field and why this new playground was a critical need for the Spaulding Youth Center campus. We also unveiled our latest video "Feeling Comfortable in Your Own Body" which is available on our YouTube channel (just search on Spaulding Youth Center).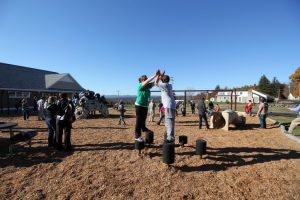 Like the old adage good things come to those that wait, the special–ordered playground was manufactured, shipped and eventually arrived in late fall. With the help of Superior Fence Company, our talented Facilities and Grounds crew constructed the new playground in the crisp New England fall. All the students and staff watched with breathless anticipation during construction, walking by the site several times a day with wistful gazes. After nearly three weeks on Wednesday, November 4th, all students and school staff joined management to celebrate the conclusion of playground construction with an official ribbon cutting and of course, a grand opening for play. In early December, a time lapse video of the playground creation will also be available on the Spaulding Youth Center YouTube channel.
We look forward to Phase 2 beginning in early 2016. If you would like to be a part of a future playground improvement phase, please visit us online at spauldingyouthcenter.org/give and select Swing Into Spring Breakfast from the available gift options.
ABOUT SPAULDING YOUTH CENTER
Spaulding Youth Center is a leading provider of services for children and youth with neurological, emotional, behavioral, learning and/or developmental challenges including Autism Spectrum Disorder. Services include academic, behavioral health, residential, foster care, health and wellness and family support. Spaulding Youth Center Foundation is a tax-­‐ exempt 501 (c)(3) nonprofit. For information about Spaulding Youth Center, visit www.spauldingyouthcenter.org.
Interested in Learning More About Our Vibrant Campus?
If you are interested in an insider's view of a day in the life of Spaulding Academy & Family Services, we recommend visiting our online photo gallery or our video gallery. These are updated weekly so keep checking back for more great Spaulding moments!