Spaulding Youth Center Celebrates Autism Awareness Month
April 11, 2019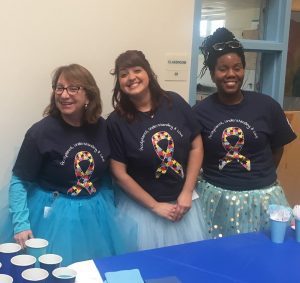 Spaulding Youth Center commemorated National Autism Awareness Month with a special celebration held during its weekly school town hall. Students, staff members and supporters gathered together to spread awareness about Autism Spectrum Disorder (ASD) and to celebrate acceptance, understanding and love. Students and staff enjoyed refreshments and the sentiment of unity.
To add to the festivities, students and staff were presented with blue Spaulding Youth Center Autism Awareness shirts to wear during the celebration. With most attendees proudly wearing this shirt, the result was a visual demonstration of campus-wide unity and acceptance for Spaulding students and people everywhere diagnosed with ASD. Attendees were also encouraged to participate in "Tutu Tuesday" by wearing a blue tutu for the celebration and on every Tuesday in April.
"Spaulding Youth Center provides many services for children and youth diagnosed with Autism Spectrum Disorder, and the enthusiastic staff who dedicate their careers and daily efforts to work with these kids are truly inspiring," said Susan C. Ryan, President & CEO of Spaulding Youth Center. "We are pleased to honor April as Autism Awareness Month and thrilled to hold an event that will hopefully spread further awareness and support of those with Autism Spectrum Disorder."
To make a donation in support of autism awareness and those students with Autism Spectrum Disorder who we support every day, please visit /give/ or contact the Director of Development & Community Relations at Donate@SpauldingYouthCenter.org or 603.286.8901 ext. 107.
About Spaulding Youth Center
Spaulding Youth Center is a leading provider of services for children and youth with neurological, emotional, behavioral, learning and/or developmental challenges, including Autism Spectrum Disorder and those who have experienced significant trauma, abuse or neglect. Services include academic, behavioral health, residential, foster care, health and wellness and family support. Spaulding Youth Center is a tax-exempt 501(c)(3) nonprofit. For information about Spaulding Youth Center, visit www.spauldingyouthcenter.org.
Interested in Learning More About Our Vibrant Campus?
If you are interested in an insider's view of a day in the life of Spaulding Academy & Family Services, we recommend visiting our online photo gallery or our video gallery. These are updated weekly so keep checking back for more great Spaulding moments!