Spaulding Youth Center Celebrates Annual Authors Tea
October 29, 2019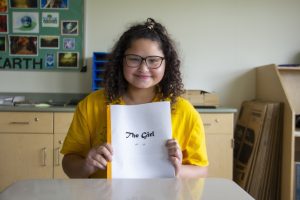 Northfield, NH – Spaulding Youth Center is excited to announce the success of its annual Authors Tea, which celebrated the literary accomplishments of its students.
For this project, each student is tasked to write an original story, which can be fiction, nonfiction or even poetry, based on the selected classroom theme. Their creative writing is then illustrated and bound into their very own keepsake book. This year, students in one classroom wrote about fractured fairytales, creating their own spin to well-known favorite childhood stories. Other offerings included super hero quests, autobiographies, personal interest studies, and a few students even penned fiction chapter books! At the culmination of this project, families, friends and staff were invited to campus to tour the classrooms and listen to student presentations about their personal creations.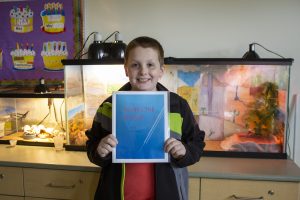 "The annual Authors Tea is an educational event students and staff look forward to and work hard to accomplish each year," said Colleen Sliva, School Principal & Special Education Director of Spaulding Youth Center. "Creative writing provides the students an opportunity to develop their voice and share their interests, perspectives and aspirations. They are so proud to present their creations to family, friends, peers and Spaulding staff members. It is a truly inspirational day for all who are present."
The Authors Tea event provides a unique creative writing opportunity for our students so that they can experience a safe place to use their imagination and express their feelings. The process is designed to build confidence and a sense of accomplishment, as well as to create a one-of-a-kind keepsake of their hard work. For parents, it is thrilling to witness their child flourish in an integrated educational activity. Spaulding Youth Center hosts several annual campus events which provide instructive and therapeutic outcomes for students. To learn more about these events, please visit spauldingyouthcenter.org/happenings.
About Spaulding Youth Center
Spaulding Youth Center is a leading provider of services for children and youth with neurological, emotional, behavioral, learning and/or developmental challenges, including Autism Spectrum Disorder and those who have experienced significant trauma, abuse or neglect. Services include academic, behavioral health, residential, foster care, health and wellness and family support. Spaulding Youth Center is a tax-exempt 501(c)(3) nonprofit. For information about Spaulding Youth Center, visit www.spauldingyouthcenter.org.
Interested in Learning More About Our Vibrant Campus?
If you are interested in an insider's view of a day in the life of Spaulding Academy & Family Services, we recommend visiting our online photo gallery or our video gallery. These are updated weekly so keep checking back for more great Spaulding moments!