Spaulding Youth Center awarded Golden Hammer Award by Lakes Region Chamber of Commerce
January 29, 2013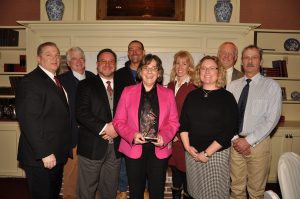 It's been almost a year since students and staff moved into Spaulding Youth Center's new 21,856 square-foot high-performance, state-of-the-art school building. The expert team of individuals who worked so hard to make this project successful were recently honored by the Lakes Region Chamber of Commerce with the Golden Hammer Award for Business Economic Improvement. President and CEO of Spaulding Youth Center Susan Calegari commented, "We are very honored and proud to accept this award. This spectacular school building was designed to house all of our classrooms in one building and build capacity for more day students by increasing enrollment from 64 to 74 students this year, and eventually increasing to 100 students, many of whom live in the Lakes Region."
Designed by Banwell Architects of Lebanon and built by Conneston Construction (CCI) of Laconia, the building was constructed by scores of New Hampshire tradesmen, with the notable exception of a porte-cochere custom-designed by a Rhode Island timber-framer. The $5 million project was funded through financing from Franklin Savings Bank and a $3.1 million Success Under Construction: A New School for Spaulding capital campaign which is just $140,458 away from reaching a successful conclusion thanks to the generosity of businesses, individuals and foundations.
Spaulding Youth Center leverages professional expertise to help young people with autism or other developmental and/or behavioral challenges learn the academic and life skills needed to be successful in their homes, schools and communities.
For information about Spaulding Youth Center, contact Gail Mayhew, Director of Development at 603-286-7500 ext. 532; GMayhew@SpauldingYouthCenter.org or visit www.spauldingyouthcenter.org.
Interested in Learning More About Our Vibrant Campus?
If you are interested in an insider's view of a day in the life of Spaulding Academy & Family Services, we recommend visiting our online photo gallery or our video gallery. These are updated weekly so keep checking back for more great Spaulding moments!