Spaulding Academy & Family Services Welcomes Michael Flaherty to Board of Directors
September 09, 2020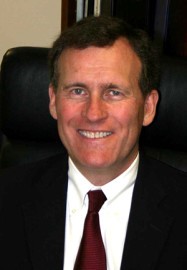 Northfield, NH – Spaulding Academy & Family Services (formerly Spaulding Youth Center) is pleased to announce Michael Flaherty has joined its board of directors.
Mr. Flaherty is the President and CEO of Taylor Community, a continuing care retirement community located in New Hampshire's Lakes Region. He was formerly Managing Director and Vice President of Development for the Compass Management Group, LLC, a business consulting firm specializing in executive advisement. Prior to his role at Compass Management Group, Michael held roles as the Chief Operating Officer for the Greater Nashua Mental Health Center, the Executive Director of Wingate at Andover, Director of Budgeting and Planning for McLean Hospital and as Senior Financial Consultant for the Genesis Healthcare Corporation.
It was through a friend that Mr. Flaherty first heard of the volunteer opportunity at Spaulding Academy & Family Services, and he instantly became intrigued learn more about an organization that had proven its commitment to serving children, youth and families in need. He has friends who have children with behavioral and developmental challenges and always had a soft spot in his heart for these kids and their families. After meeting with Spaulding's President & CEO, Susan C. Ryan, he knew that Spaulding would be a great fit for his next board position.
"We are excited to welcome Michael Flaherty to our board of directors," said Susan C. Ryan, President & CEO of Spaulding Academy & Family Services. "His healthcare leadership experience along with his familiarity with working in behavioral health organizations makes him a fitting addition to our diverse board."
Michael Ventura, Board Chair of Spaulding Academy & Family Services, added, "Mr. Flaherty is a well-respected local executive with a strong background in health care, so he brings ample expertise to an already strong board of directors. We are looking forward to seeing the impact he makes."
Mr. Flaherty received his Bachelor of Arts in Speech Communications from Boston College, an MBA and an MHA from Suffolk University and a Graduate Certificate in Comparative Public Health Policy from the Institute of Public Administration at Trinity University in Dublin, Ireland.
The Spaulding Academy & Family Services board of directors is comprised of volunteers from the human services, corporate, investment, and philanthropic sectors of our state. To learn more about the Spaulding Academy & Family Services board of directors, visit https://www.SpauldingServices.org/leadership/.
About Spaulding Academy & Family Services
Spaulding Academy & Family Services is a leading provider of educational, residential, therapeutic and community based programs and services for families, and children and youth with neurological, emotional, behavioral, learning or developmental challenges, including Autism Spectrum Disorder and those who have experienced significant trauma, abuse or neglect. Established in 1871, Spaulding Academy & Family Services is a tax-exempt 501(c)(3) nonprofit that was formerly known as Spaulding Youth Center since 1958. Our scenic hilltop campus is located on over 500 acres in Northfield, NH and welcomes boys and girls from ages 4 to 21 from around the state of New Hampshire and beyond. In addition to programs provided on our Northfield campus, Spaulding's community based programs include foster family licensing, Individual Service Option (ISO) foster care, ISO in-home services, child health support services, and more for children ages 0 to 20 and their family. For information about Spaulding Academy & Family Services, visit www.SpauldingServices.org.
Interested in Learning More About Our Vibrant Campus?
If you are interested in an insider's view of a day in the life of Spaulding Academy & Family Services, we recommend visiting our online photo gallery or our video gallery. These are updated weekly so keep checking back for more great Spaulding moments!