Spaulding Academy & Family Services Students Celebrate Fall Fest
November 25, 2020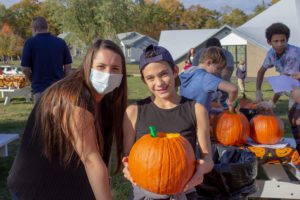 Northfield, NH – Spaulding Academy & Family Services (formerly Spaulding Youth Center) recently held an after-school afternoon of food and fun for its residential students at the 4th Annual Fall Fest. The event features pumpkin decorating and carving to spark student creativity, and this year students tried hydro dipping, a combination of paint and water that produces unique designs when an object is dipped into it.
Typically, the finished pumpkins are displayed at the New Hampshire Pumpkin Festival in Laconia, but as the event is canceled due to COVID-19, students decorated pumpkins for their own enjoyment.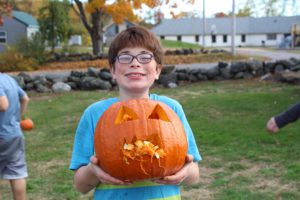 Performance Foodservice–Burlington of Essex, Vermont donated pumpkins to Spaulding Academy & Family Services for the Fall Fest.
"We are grateful to the leadership of Performance Foodservice–Burlington for their thoughtfulness and generosity," said Holly Rios, Food Services Manager, Spaulding Academy & Family Services. "The students eagerly look forward to the Fall Fest each year, and the donation of so many farm-fresh pumpkins made this important event possible."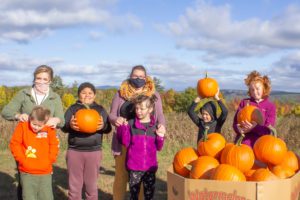 After school events like the Fall Fest provide residential students an opportunity to experience physical activity, cooperation, and peer relations in a therapeutic setting.
"Our staff seems to effortlessly – and consistently – support our students with engaging hands-on activities that make them happy and reinforce important life skills," explained Amanda Champagne, M.S., MBA, Executive Director of Family Services. "The Fall Fest is just one example of how staff members create experiences that make childhood fun and memorable for our students."
For more information about Spaulding Academy & Family Services and its comprehensive special education services, visit SpauldingServices.org.
About Spaulding Academy & Family Services
Spaulding Academy & Family Services is a leading provider of educational, residential, therapeutic and community based programs and services for families, and children and youth with neurological, emotional, behavioral, learning or developmental challenges, including Autism Spectrum Disorder and those who have experienced significant trauma, abuse or neglect. Established in 1871, Spaulding Academy & Family Services is a tax-exempt 501(c)(3) nonprofit that was formerly known as Spaulding Youth Center since 1958. Our scenic hilltop campus is located on over 500 acres in Northfield, NH and welcomes boys and girls from ages 4 to 21 from around the state of New Hampshire and beyond. In addition to programs provided on our Northfield campus, Spaulding's community based programs include foster family licensing, Individual Service Option (ISO) foster care, ISO in-home services, child health support services, and more for children ages 0 to 20 and their family. For information about Spaulding Academy & Family Services, visit www.SpauldingServices.org.
Interested in Learning More About Our Vibrant Campus?
If you are interested in an insider's view of a day in the life of Spaulding Academy & Family Services, we recommend visiting our online photo gallery or our video gallery. These are updated weekly so keep checking back for more great Spaulding moments!