Spaulding Academy & Family Services Recognizes Staff, Celebrates Past and Future during Annual Event
October 06, 2020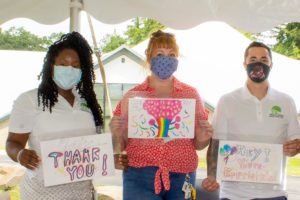 Northfield, NH – Spaulding Academy & Family Services (formerly Spaulding Youth Center) recently held their annual Employee Appreciation event to recognize the dedication of its employees, which has been especially evident during the COVID-19 pandemic. The event also provided an opportunity to internally launch the organization's new name and brand, and to celebrate the organization's 150th anniversary of serving children with a variety of special needs and supporting families.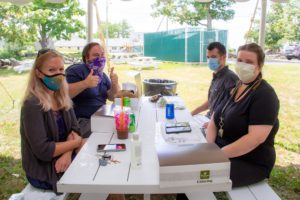 The Employee Appreciation event was held on the Spaulding Academy & Family Services campus, but was staggered by department to accommodate COVID-19 social distancing and safety precautions. Employees received appreciation gifts, including personalized placemats created by Spaulding Academy students, and moisture-wicking polo shirts featuring the new logo and brand. They were also treated to individually-packaged lunches to enjoy with colleagues and peers.
Employees celebrating milestone anniversaries during Fiscal Year 20 (July 1, 2019 to June 30, 2020) were provided special recognition. These included 16 staff members with five years of service, six with ten years, four with 15 years, two with 20 years – and one employee each with 25 and 35 years of employment.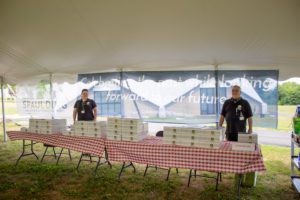 "Whether staff members work in our residential, academic, clinical or health services, administration, food service, facilities, or experiential challenges outdoors (EChO) teams, they share one common goal – to provide all children, regardless of ability, the childhood they deserve," said Lys Miller-Drake, SHRM-SCP, Director of Human Relations & Employee Engagement at Spaulding Academy & Family Services. "We are so proud of the tireless service our employees provide our children and families – especially throughout the COVID-19 pandemic – and are incredibly thankful to have such a dedicated team to launch our 150th year."
For more information about Spaulding Academy & Family Services and their comprehensive special education services, visit SpauldingServices.org. Current employment opportunities and details about benefits and incentives are posted at SpauldingServices.org/careers.
About Spaulding Academy & Family Services
Spaulding Academy & Family Services is a leading provider of educational, residential, therapeutic and community based programs and services for families, and children and youth with neurological, emotional, behavioral, learning or developmental challenges, including Autism Spectrum Disorder and those who have experienced significant trauma, abuse or neglect. Established in 1871, Spaulding Academy & Family Services is a tax-exempt 501(c)(3) nonprofit that was formerly known as Spaulding Youth Center since 1958. Our scenic hilltop campus is located on over 500 acres in Northfield, NH and welcomes boys and girls from ages 4 to 21 from around the state of New Hampshire and beyond. In addition to programs provided on our Northfield campus, Spaulding's community based programs include foster family licensing, Individual Service Option (ISO) foster care, ISO in-home services, child health support services, and more for children ages 0 to 20 and their family. For information about Spaulding Academy & Family Services, visit www.SpauldingServices.org.
Interested in Learning More About Our Vibrant Campus?
If you are interested in an insider's view of a day in the life of Spaulding Academy & Family Services, we recommend visiting our online photo gallery or our video gallery. These are updated weekly so keep checking back for more great Spaulding moments!