Spaulding Academy & Family Services Promotes Amanda Champagne
January 28, 2021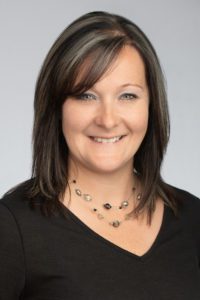 Northfield, NH – Spaulding Academy & Family Services (formerly Spaulding Youth Center) has promoted Amanda Champagne to Executive Director of Family Services.
The former residential services director, Champagne has been employed with the organization since 2000, serving in various capacities within the residential program. Her promotion is part of a strategic realignment of Spaulding Academy & Family Services designed to deepen and expand the support delivered to its children and families.
In her new role, Champagne will oversee residential, health services, clinicians, board certified behavior analysts, and community based programs, including family and social workers. By consolidating these programs within a unified Family Services department, the outcome will be a more seamless exchange of information for children and families as well as greater efficiencies within the organization. Overall, Champagne is responsible for ensuring program fidelity and service delivery as the organization grows.
"Amanda's technical expertise, institutional knowledge, and true passion for improving the lives of our children and their families make her the perfect fit for this important role," said Todd Emmons, CEO & President, Spaulding Academy & Family Services. "Her effective leadership skills will be integral to achieving more proactive, engaged, and successful support for our children as we refine and expand our services all while continuing to put families first."
Champagne is an academic instructor within Granite State College's Education and Training Partnership, teaching online classes related to child and adolescent development, supporting children with traumatic backgrounds, child welfare, autism, and managing severe behaviors. She is also a professional crisis management trainer and a justice of the peace.
Champagne serves on the boards of Lakes Region United Soccer and the Tilton and Northfield Youth Assistance Program. She holds an MBA and a MS in Psychology – Child and Adolescent Development from Southern New Hampshire University.
For more information about Spaulding Academy & Family Services and its comprehensive special education services, visit SpauldingServices.org. Details about its Board of Directors and Management team are available at SpauldingServices.org/leadership.
About Spaulding Academy & Family Services
Spaulding Academy & Family Services is a leading provider of educational, residential, therapeutic and community based programs and services for families, and children and youth with neurological, emotional, behavioral, learning or developmental challenges, including Autism Spectrum Disorder and those who have experienced significant trauma, abuse or neglect. Established in 1871, Spaulding Academy & Family Services is a tax-exempt 501(c)(3) nonprofit that was formerly known as Spaulding Youth Center since 1958. Our scenic hilltop campus is located on over 500 acres in Northfield, NH and welcomes boys and girls from ages 4 to 21 from around the state of New Hampshire and beyond. In addition to programs provided on our Northfield campus, Spaulding's community based programs include foster family licensing, Individual Service Option (ISO) foster care, ISO in-home services, child health support services, and more for children ages 0 to 20 and their family. For information about Spaulding Academy & Family Services, visit www.SpauldingServices.org.
Click here to read coverage in the Winnisquam Echo, Laconia Daily Sun and NH Union Leader. For print-ready PDFs, click here for the Winnisquam Echo, here for the Laconia Daily Sun and here for the NH Union Leader Newsmakers column.
Interested in Learning More About Our Vibrant Campus?
If you are interested in an insider's view of a day in the life of Spaulding Academy & Family Services, we recommend visiting our online photo gallery or our video gallery. These are updated weekly so keep checking back for more great Spaulding moments!