Spaulding Academy & Family Services Celebrates Staff at 2023 Appreciation Event
August 16, 2023
Many thanks to Laconia Daily Sun, Northfield News and Winnisquam Echo for sharing this news with our community. Check out the coverage in Laconia Daily Sun, Northfield News, and Winnisquam Echo. Print-Ready PDFs are available by clicking the publication names: Laconia Daily Sun, Northfield News, Winnisquam Echo.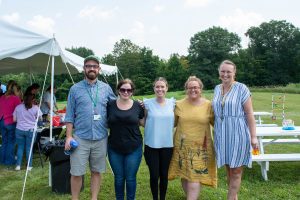 Northfield, NH – Spaulding Academy & Family Services recently hosted its much-anticipated Annual Staff Appreciation event behind the Westwood building on campus. An overwhelming turnout of over 200 team members came together for a day of celebration, camaraderie, and gratitude.
The 2023 Annual Staff Appreciation event was a resounding success, with team members enjoying a diverse range of activities and entertainment throughout the day. The event featured an array of food trucks, lively music, and engaging games, creating an atmosphere of joy and togetherness.
One of the highlights of the event was the Diversity, Equity and Inclusion (DEI) table where team members participated in exciting games such as Diversity Ball and the Cootie Catchers. This inclusion-focused initiative served as a reminder of the organization's commitment to fostering a diverse and welcoming environment for all.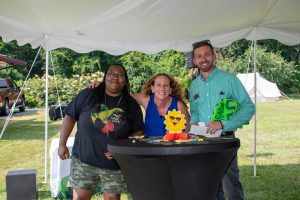 "We were delighted for such an incredible turnout at this year's Annual Staff Appreciation event," said Todd Emmons, CEO of Spaulding Academy & Family Services. "Without a doubt, everyone enjoyed this incredible afternoon, and every attendee felt how deeply Spaulding appreciates them. Our team's dedication and hard work hold immeasurable value, not only to each other but also as a part of shaping the lives of those children and families we serve. Regardless of their role, each employee makes a profound difference to our community."
As an additional token of appreciation, every attendee was gifted some new beach gear, including towels and stylish sunglasses to make their summer even more enjoyable. Furthermore, Spaulding Academy & Family Services honored the dedication and commitment of its team members by presenting bonus checks to those employees who have been part of the organization for at least one month. The gesture exemplifies the institution's recognition of the significant contributions made by its staff in providing exceptional care and support to the children and families they serve.
To view positions currently available at Spaulding Academy & Family Services, please visit https://www.spauldingservices.org/jobs.
About Spaulding Academy & Family Services
Spaulding Academy & Family Services is a leading provider of educational, residential, therapeutic and community-based programs and services for families, and children and youth with neurological, emotional, behavioral, learning or developmental challenges, including Autism Spectrum Disorder and those who have experienced significant trauma, abuse or neglect. Established in 1871 as the New Hampshire Orphans Home and School for Industry, Spaulding Academy & Family Services is the oldest child care organization in operation in the United States. It is a is a tax-exempt 501(c)(3) nonprofit that was formerly known as Spaulding Youth Center since 1958. Its scenic hilltop campus is located on over 500 acres in Northfield, NH and welcomes boys and girls from ages 4 to 22 from around the state of New Hampshire and beyond. In addition to programs provided on the Northfield campus, Spaulding's community-based programs include foster family licensing, Individual Service Option (ISO) foster care, ISO in-home services, child health support services, and more for children ages 0 to 20 and their family. For information about Spaulding Academy & Family Services, visit www.SpauldingServices.org.
Interested in Learning More About Our Vibrant Campus?
If you are interested in an insider's view of a day in the life of Spaulding Academy & Family Services, we recommend visiting our online photo gallery or our video gallery. These are updated weekly so keep checking back for more great Spaulding moments!