Spaulding Academy & Family Services Celebrates Annual Field Day Event
July 26, 2023
Many thanks to Concord Monitor and Northfield News for sharing this news with our community. Check out the coverage in Concord Monitor and Northfield News. A Print-Ready PDF is available by clicking the publication name: Concord Monitor, Northfield News.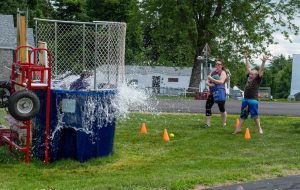 On a picturesque day filled with sunshine, Spaulding Academy students and staff came together for a truly exhilarating event – Field Day. Laughter echoed through the campus as students took the plunge, dunking their beloved teachers and staff into a world of merriment and joy. The atmosphere was electric as the young minds raced through various activities, sharing love and laughter that will be etched into their hearts forever. Let's dive into the unforgettable memories created during this day of pure fun and camaraderie.
As the sun beamed down, eager students lined up to take their shot at dunking some of their favorite mentors. With wide smiles and playful enthusiasm, they aimed their throws, each splash greeted with roars of laughter and cheers from the crowd. From teachers to paraprofessionals, school social worker, BCBA, and the Principal, no one was safe from the splash zone. The students reveled in this rare opportunity to playfully turn the tables on the people they look up to every day.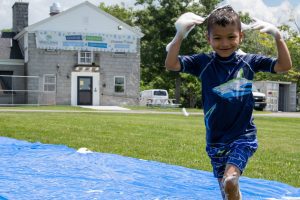 But the fun didn't stop there. Field Day had an array of exciting activities for everyone to enjoy. Bounce houses, inflated with air and dreams, beckoned the students to jump, soar, and experience the sheer joy of being weightless for a moment. The infectious laughter was contagious as they bounced higher and higher, their spirits soaring as they did.
The slip 'n' slide provided another thrilling escapade, as students glided down the slick surface, their faces beaming with delight. These simple yet exhilarating activities brought the young hearts closer to each other, forming friendships that would last beyond the bounds of Field Day.
But beyond the splashes and giggles, Field Day was a testament to the power of unity and togetherness. The event brought people from different corners of the campus, binding them with laughter, love, and shared experiences. It showcased the extraordinary relationship between the students and staff, reminding us all of the importance of creating cherished memories that will last a lifetime.
To learn more about Spaulding Academy & Family Services, visit SpauldingServices.org.
---
Interested in Learning More About Our Vibrant Campus?
If you are interested in an insider's view of a day in the life of Spaulding Academy & Family Services, we recommend visiting our online photo gallery or our video gallery. These are updated weekly so keep checking back for more great Spaulding moments!