Parenting NH Magazine Names Spaulding Youth Center's Scott Dunlop as New Hampshire Top Teacher for 2019
January 22, 2020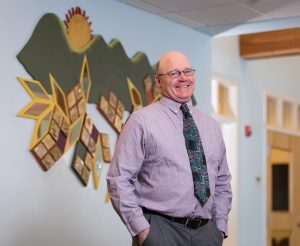 Northfield, NH – Spaulding Youth Center is thrilled to announce Scott Dunlop was selected for Parenting NH Magazine's New Hampshire Top Teachers for 2019. Scott Dunlop is a special education teacher at Spaulding Youth Center, where he has worked for twenty-five years.
Community members, educators and academic peers were asked to submit nominations for this prestigious list, which is comprised of top New Hampshire educators. Nominations include essays written about the talented educators of our state along with a short profile about each teacher. Parenting NH Magazine receives hundreds of compelling nominations. For the third annual Top Teacher issue, five different and incredibly impactful educators were awarded the title of Top Teacher for 2019.
"On behalf of Spaulding Youth Center, I am incredibly proud to have Scott Dunlop as part of our special education team and thrilled of his recognition as a Top Teacher in the state of New Hampshire," said Colleen Sliva, School Principal & Special Education Director. "Mr. Dunlop is deeply committed to the belief that his students can achieve success in and out of a school setting and prepares them to do just that. He has made an incredibly positive impact on his students, colleagues and community and we are extremely fortunate to have Scott as part of our organization."
Mr. Dunlop joined Spaulding Youth Center in 1995 as a special education teacher following his time on campus as a student teacher. Almost 25 years later, he still faces something new and challenging in his neurobehavioral classroom every day, which is one of his favorite things about working at Spaulding. Within this uniquely challenging atmosphere, Mr. Dunlop embraces each and every day with positivity and dedication and accomplishes truly legendary outcomes for our extraordinary students. Scott was honored as the 2018 recipient of the Spaulding Teacher of the Year Award.
"As a Northfield resident, I grew up familiar with the Spaulding Youth Center campus and mission," said Scott Dunlop. "However, it wasn't until I started my career with Spaulding that I realized the thoroughly rewarding outcomes of working so closely with my students and their families. I am honored to facilitate unique and fulfilling life experiences for my students and celebrating their many successes."
Click here to download the official press release.
About Spaulding Youth Center
Spaulding Youth Center is a leading provider of services for children and youth with neurological, emotional, behavioral, learning and/or developmental challenges, including Autism Spectrum Disorder and those who have experienced significant trauma, abuse or neglect. Services include academic, behavioral health, residential, foster care, health and wellness and family support. Spaulding Youth Center is a tax-exempt 501(c)(3) nonprofit. For information about Spaulding Youth Center, visit www.spauldingyouthcenter.org.
Interested in Learning More About Our Vibrant Campus?
If you are interested in an insider's view of a day in the life of Spaulding Academy & Family Services, we recommend visiting our online photo gallery or our video gallery. These are updated weekly so keep checking back for more great Spaulding moments!