Northway Bank Managers team building skills at Spaulding Youth Center
August 29, 2012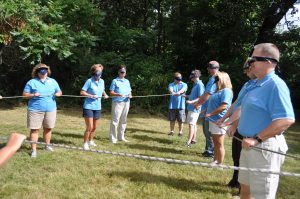 Sixteen Northway Bank Branch Managers from New Hampshire recently participated in a day of team building at Spaulding Youth Center's EChO (Experiential Challenges Outdoors) program. EChO instructors Jason Sterner and Steve Golden led activities for fostering trust, cooperation, communication, problem-solving and leadership, including the use of Spaulding's high ropes course where the Managers climbed 50 foot trees. After joining Spaulding students for a barbecue lunch, the Managers surprised the students with dozens of brand new outdoor toys and stayed for an afternoon of recreation. Together they created giant bubbles, played catch with whistling rockets and played volleyball, softball, paddleball and Frisbee. Spaulding students had a wonderful time with their new friends and gifts of outdoor toys.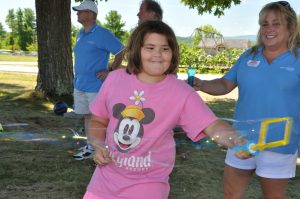 After the day of team building and interacting with the students, Northway Bank Community Leader Jeni Williams remarked, "We were so moved by everything. Some of the managers couldn't even articulate the feelings that were inside of them. They were just too deep and powerful. Others said that their lives were going to be changed forever. It was the most inspirational thing."
Spaulding Youth Center is a leading provider of educational, residential, therapeutic and foster care programs and services for children and youth with autism, neurological and/or behavioral challenges. Spaulding proudly serves youth and their families – transforming lives and helping children and youth achieve their full potential.
Interested in Learning More About Our Vibrant Campus?
If you are interested in an insider's view of a day in the life of Spaulding Academy & Family Services, we recommend visiting our online photo gallery or our video gallery. These are updated weekly so keep checking back for more great Spaulding moments!