Nicole Keefe: Making Impactful Connections
August 01, 2023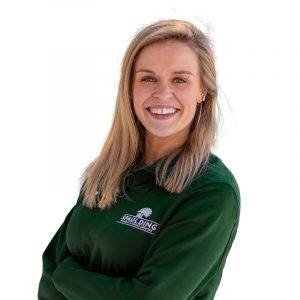 It's been nearly five years since Nicole Keefe responded to a Spaulding Academy & Family Services job posting on Indeed.com seeking a paraprofessional – and she hasn't looked back. Nicole holds a Bachelor of Arts degree in Criminal Justice with a minor in Studio Art from Saint Anselm College. She always enjoyed working with children and had a passion to help at-risk youth. After being hired as a paraprofessional, Nicole eventually moved to the switchboard for a year-and-a-half before transitioning to her current role as Board Liaison and Communications Specialist.
Nicole works closely with Spaulding's Board of Directors and leadership staff, including Todd Emmons, President & CEO/CFO (and fellow Anselmian), and the entire leadership team of the organization, providing vital support and offering valuable insights as she goes about her day-to-day tasks. In addition to supporting their work, Nicole assists with campus and event photography, graphic design projects, and development initiatives.
"I love the flexibility of Spaulding and its emphasis on having a work/life balance," Nicole says. "I've also built many wonderful, lifelong connections here, including meeting my best friend and roommate."
Nicole looks forward to evolving in her position as she expands her skillsets and takes on additional responsibilities. She feels energized by the important work happening at Spaulding and her bright future helping to advance its mission.