Nicole Hilliker – Our First Spaulding Spirit Award Winner!
August 11, 2017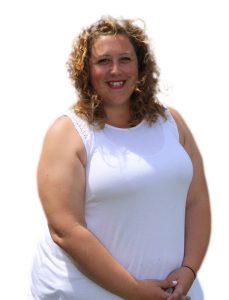 The Spaulding Spirit Award is a peer‐nominated award given to a staff member who exemplifies Spaulding Spirit and makes peers proud to be working by their side. We are so excited that Nicole Hilliker has been chosen as the first Spaulding Spirit Winner! Nicole has been at SYC for nearly 2 years now, and in that time, has become part of the Spaulding family.
"Nicole is a person you will not forget. She takes great pride in working and assisting others without being asked. She seems to always have a smile on her face! She is one unique person and a really great team member and I am proud to work with her at SYC!" Cindy Foley, RN.
Nicole was moving to NH from MA and was looking for a job at a school where she could use her background as a home health aide. She went on more than a dozen interviews, and when she came to SYC, she knew she had found the right place. She loved the beautiful campus and the connection with the staff and students. Spaulding felt like a family, not just a school. And at Spaulding, she could get the hands‐on experience she was seeking, playing ball in addition to doing school work.
"At Spaulding, one kid's success is shown across so many faces because everyone works together," said Nicole. "We take pride in work we do with kids. Their accomplishments every day make the tough days worth it. That's why I go to work every day!"
Nicole has built strong relationships at Spaulding ‐ she and coworkers go out together weekly. The support of the entire staff, and knowing they believed in her, has motivated Nicole to go back to school to get a Bachelor of Science in Special Education and become a teacher at SYC! You will frequently find Nicole working overtime shifts because she wants to, not because she needs to. When she is not working, Nicole enjoys camping, the beach in nice weather, her teacup Yorkie Gracie May, and hanging out with friends.