Nick Silva Receives Spaulding Youth Center's Spaulding Spirit Award
August 15, 2019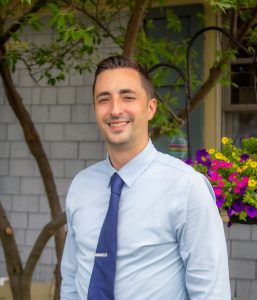 Northfield, NH – Spaulding Youth Center is pleased to present the Spaulding Spirit Award to Nick Silva, Admissions Assistant. This peer-nominated recognition is presented at each quarterly staff meeting to one employee who exemplifies Spaulding Spirit and makes peers proud to be working by their side.
Among numerous heartfelt and compelling nominations, Mr. Silva was described by his colleagues as engaging and calming with Spaulding students, as well as respectful, a great listener and impactful in what he does every day. He is well‐liked by students and staff members alike and is highly professional in his approach to his work.
Mr. Silva joined Spaulding in 2014 as an Academic Aide in the Spaulding School. He has worn many hats in his time in the organization, including Paraprofessional, Residential Counselor and Associate Teacher. In 2017, Mr. Silva was offered his current role of Admissions Assistant. In this role, Mr. Silva is able to lead campus tours, follow up on new students' progress and ultimately be a part of the Spaulding enrollment process from start to finish.
Mr. Silva's favorite thing about working at Spaulding Youth Center is the students. He loves being able to witness students achieve goals and make progress toward becoming more independent and productive individuals. For these reasons, he most enjoys the annual Arts Festival and Science Fair on campus which showcase students' classwork and achievements. Mr. Silva notes that every single Spaulding staff member is deserving of a Spirit Award, as it is truly a team effort that makes the organization so successful.
"Nick has been a dedicated, thoughtful and respected colleague for the past five years," said Susan C. Ryan, President & CEO of Spaulding Youth Center. "His compassion for our students and willingness to help other staff members is truly inspiring. Nick's positive attitude and gracious manner has been a welcome addition to our team. This peer recognition is truly well deserved."
Mr. Silva earned a bachelor's degree in Marketing and Management from Elms College in Chicopee, Massachusetts. In his spare time, Mr. Silva enjoys spending time with his family as well as watching the New England Patriots play and rooting for Tom Brady.
About Spaulding Youth Center
Spaulding Youth Center is a leading provider of services for children and youth with neurological, emotional, behavioral, learning and/or developmental challenges, including Autism Spectrum Disorder and those who have experienced significant trauma, abuse or neglect. Services include academic, behavioral health, residential, foster care, health and wellness and family support. Spaulding Youth Center is a tax‐exempt 501(c)(3) nonprofit. For information about Spaulding Youth Center, visit www.spauldingyouthcenter.org.
Interested in Learning More About Our Vibrant Campus?
If you are interested in an insider's view of a day in the life of Spaulding Academy & Family Services, we recommend visiting our online photo gallery or our video gallery. These are updated weekly so keep checking back for more great Spaulding moments!