Nick Silva – A Positive Impact on All
December 28, 2022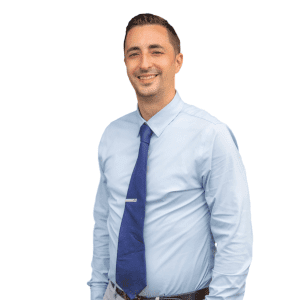 Nick Silva is described by his colleagues as engaging and calming with Spaulding students, as well as respectful, a great listener and impactful in what he does every day. It truly is no wonder why he is so well-liked by students and staff members alike.
Eight years ago, Nick Silva was interested in working for Spaulding Academy & Family Services because he grew up with a sister with special needs – and always wanted to help others who required special education. He was hired as a Paraprofessional at Spaulding Academy and later became a Residential Counselor and then a Teacher's Associate. For the past four years, Nick served as the Admissions Assistant for Admissions Director Pat Seaward-Salvati.
"I really fell in love with the job. It's a unique job on campus – you work with every department and build rapport with everyone," Nick shares. "I like the collaborative part – being able to be creative and find ways to help the children. It really fills your bucket. Little miracles happen every day."
With Pat's recent retirement after 20 years with the organization, Nick has been promoted to Admissions Director. He is looking forward to working even more closely with school districts and state agencies on referrals. He's also hoping to make the Admissions team more involved with the children even after they move to campus.
Nick holds a master's degree in Business Administration from Southern New Hampshire University, which he completed since joining Spaulding Academy & Family Services. He earned his bachelor's degree in Marketing and Management from Elms College in Chicopee, Massachusetts.
He shares that he's had a lot of firsts since becoming part of the Spaulding Family. Nick met his significant other here and their daughter, who's now 6 years old, made him a father.
"Spaulding has become my family – and it really gave me my very own family," Nick says. "There's really no place like it. I worked my way from the ground up to a leadership position and I'm so excited to be part of that team. I hope to continue to grow and further my career here."
We are thankful to have team members like Nick in our organization. His positive attitude, compassion for our students and willingness to help other staff members is truly inspiring.