Nichole Brizer: Always Lending a Helping Hand
March 01, 2023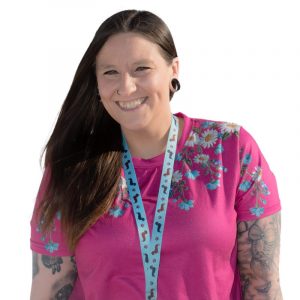 Anyone who knows Nichole Brizer would describe her as a helper. Every day, she looks for ways to improve the lives of those around her and jumps in whenever she can. As a Residential shift leader and counselor at Spaulding Academy & Family Services, this compassion is highly valued by her co-workers and the children in her care.
Nichole has been a member of the Residential team for four years and currently serves as the Cutter Wiggins residential shift leader. She also works in other cottages when needed.
"I make sure everything runs smoothly and consider myself the Den Mother of Cutter Wiggins," Nichole shares. "I would trust my co-workers with my life. They work hard to make sure the kids' needs are met and everyone is safe and happy."
Her fellow staff are grateful for her contributions. "Nichole has passion for her job and the children, is incredibly organized, and is always pleasant and approachable," one staff member recently said. "She takes pride in all she does and is awesome with our children."
Prior to her time at Spaulding, Nichole held various positions in the veterinary and customer service fields. She enjoys her "mini zoo" at home where she cares for her "whole band of old, decrepit, and otherwise unwanted creatures."

Nichole is a shining example of the love shared by the Spaulding Family. She is a special person who lights up the lives of the children and adults on campus.