Morgan Bailey: Creatively Communicating to Improve Lives
June 27, 2022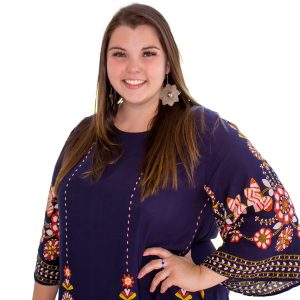 The career plan to become a teacher was forever altered the day Morgan Bailey, MS, CCC-SLP, observed a speech language pathologist (SLP) help a dying stroke patient say, "I love you" to his family. "That's when I immediately decided I wanted to help people find their voice," Morgan explains.
After graduating from the University of New Hampshire, she earned a master's in Communication Sciences and Disorders at the University of Vermont (UVM) and gained clinical experience with child and adult populations. This included work completed at the UVM Health Network, Burlington Health and Rehabilitation Center, various Vermont elementary schools, and Krempel's Center in Portsmouth, New Hampshire. Since 2018, she has been positively impacting the lives of children as a SLP on Spaulding's clinical team.
Morgan sees between five and ten children on campus each day. She works with them one-on-one and in group settings, addressing feeding and swallowing issues, cognition and articulation challenges, social and pragmatic skills, and improving outcomes for children using assistive technology.
"The trick is to provide services that work on specific skills sets, without the child realizing it's work. We get to play games, like 'Sorry!' that teach them how to count, make eye contact, follow directions, practice whole body listening, and win or lose respectfully," Morgan says. "However, it's critical to look at the whole child and observe how they interact with every environment and person – not just one situation."
Along with managing her caseload of children with diverse speech and language needs, Morgan conducts screenings and evaluations that help diagnose children with communication issues. She works closely with her fellow clinical team members to best serve the needs of Spaulding's children – and shares that she loves how her colleagues challenge her to learn and grow every day.
One of her coworkers recently said, "Morgan's love for her students is apparent. Her flexibility, positive attitude, and cheerful smile make working with her truly enjoyable."
The Spaulding Family is grateful that Morgan has found her home here. Her zeal for learning and helping children achieve their communication goals is inspiring bright futures – including her own.