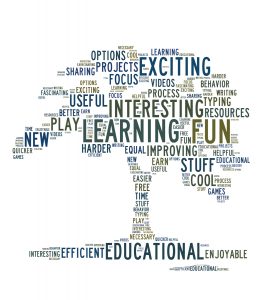 We live in a tech-driven world but beyond selfies, Facebook and Farmville, technology provides limitless learning for students at Spaulding Academy & Family Services. Unlike traditional techniques, technology-based education can serve as an equalizer for our diverse population of students with special needs. From providing basic communication to personalized education, and from embracing modern acclimation to career exploration, technology provides limitless opportunities to each of our students.
On May 17th, local business owners, community leaders and dedicated supporters attended Learning Without Limits, a free breakfast event at the McAuliffe-Shepard Discovery Center in Concord, NH. This lively group enjoyed breakfast while learning more about how Spaulding Academy & Family Services supports Learning Without Limits by incorporating technology to best support each student's needs.
The primary purpose of the event was to provide an introduction to the organization, its mission and recent successes, such as the installation of an adaptive playground on campus. During breakfast, Senator Andrew Hosmer, NH District 7, presented a NH State Senate resolution and acknowledgement of Gary Lavallee, a 39+ year Spaulding employee. In addition, the event program included a compelling and informative presentation regarding the critical technology needs for this unique population.
Garrett Lavallee, Spaulding Academy & Family Services Assistant Principal, presented at the event, sharing his professional insights, personal experiences and Spaulding's current population's needs. "Technology doesn't know the challenges our students face. Technology doesn't understand the learning disabilities that our students might struggle through. It doesn't know the socio-economic status that they might come from. But it does provide an opportunity to level the playing field for our students," shared Mr. Lavallee. "In fact, using this technology for some of our students will be the only way they'll ever be able to tell their mom and dad that they love them."
Support Learning Without Limits
To support the Learning Without Limits technology initiative, Spaulding is welcoming donations by mail and online. To make a contribution by mail, send donations written to Spaulding Academy & Family Services Foundation to 72 Spaulding Road, Northfield, NH 03276. Spaulding also offers secure and easy online giving opportunities at SpauldingServices.org/give by selecting Learning Without Limits from the allocation options.
Learning Without Limits Media
Below please find videos presented during the Learning Without Limits breakfast to help demonstrate the need for adaptive technology at Spaulding Academy & Family Services.