Longstanding Employees Honored with Spaulding Spirit Awards
December 21, 2020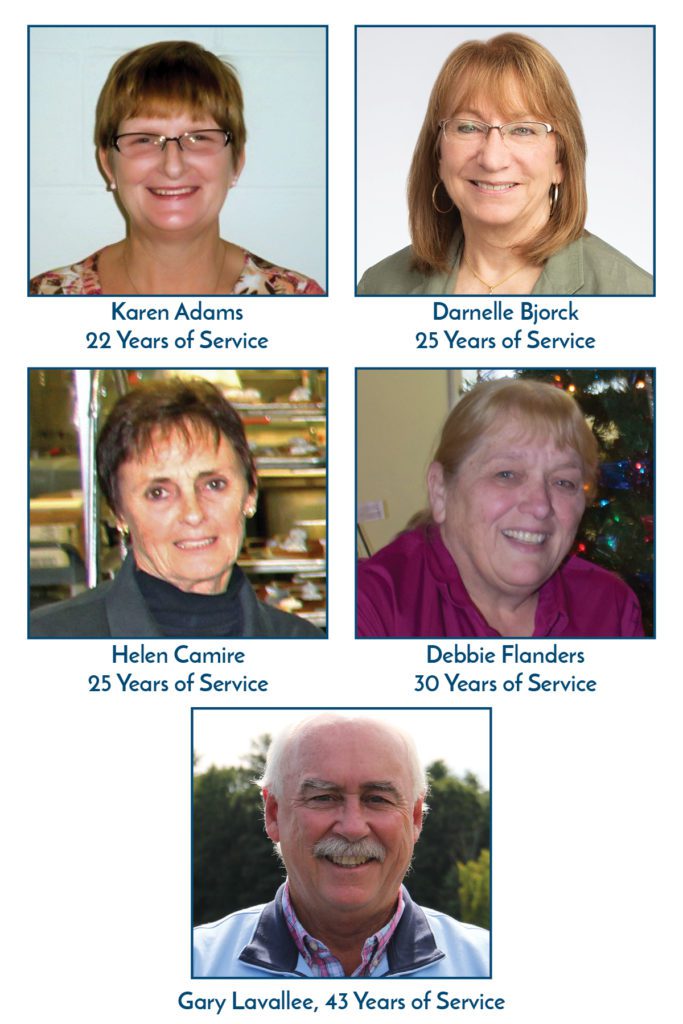 Spaulding Academy & Family Services (formerly Spaulding Youth Center) has awarded five of its longstanding employees with Spaulding Spirit Awards to recognize their 2020 retirements. These employees were recognized for their heartfelt dedication to the children and families they served in various capacities since starting their careers at Spaulding.
"We are grateful for each of these dedicated staff members, who have left positive and memorable impacts on our organization," says Todd Emmons, President and CEO. "They will be greatly missed, but we wish them retirements filled with health and happiness."
Two of the retiring employees were members of our Human Resources Team. Darnelle Bjorck, Director of Benefits, Safety & Wellness, started working at Spaulding in 1995, while Debbie Flanders, Payroll and Human Resources Assistant, began in 1989. They managed the daily human resources functions related to our more than 200 full- and part-time employees; and were instrumental in planning and executing the staff appreciation and holiday parties. Debbie also coordinated the "15 Days of Giveaways" project.
"Their work ethic was outstanding, and they are just lovely individuals," explains Lori Surowiec, Executive Assistant. "They always worked for the benefit of the Spaulding employees, each and every day."
Helen Camire, Food Service Associate, joined the Spaulding staff in 1995 as a full-time cook responsible for making breakfast, soups, and desserts. She eventually retired but missed the children and the team camaraderie, so she returned as a part-time food service associate.
According to Holly Rios, Food Services Manager, "Helen was a pleasure to have in the department and was loved by everyone. She loved to laugh, travel, and show off her grandbabies like the rest of us Grammies."
Karen Adams, Residential Assistant–Overnight, was hired in 1997. Her upbeat attitude and constant smiles helped her make wonderful connections with the kids and staff. "Karen's strength and compassion drew the children to her, and she brought consistency with her peaceful manner," describes Sandra Marshall, Director of Development & Community Relations. "She made many lasting friendships and leaves a spot tough to fill."
The retiring employee with the longest tenure at Spaulding is Gary Lavallee, Residential Training Coordinator. He retires with 43 years of service, having been hired in 1977! He started as a Residential Counselor in one of the cottages, was eventually promoted to Residential Program Director, and later served as Co-Executive Director until transitioning to his most recent role. "Gary's work at Spaulding went way beyond job title and description–or even a career or job. He put his heart and soul into the children, staff, and Spaulding," says Amanda Champagne, Executive Director of Family Services. "He was a mentor, work dad, advocate, and overall, a dedicated and respected member of the Spaulding community."

We are so very proud of the accomplishments and contributions of Darnelle, Debbie, Helen, Karen, and Gary, and are eternally grateful to them. They are a testament to the special people that choose to share their talents with our children and staff at Spaulding. Please join us in congratulating them!
Interested in Learning More About Our Vibrant Campus?
If you are interested in an insider's view of a day in the life of Spaulding Academy & Family Services, we recommend visiting our online photo gallery or our video gallery. These are updated weekly so keep checking back for more great Spaulding moments!