Linda Pletch Receives Spaulding Youth Center's Spaulding Spirit Award
December 06, 2018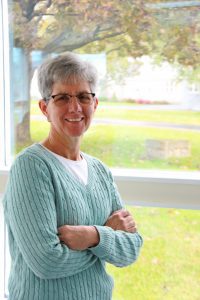 Spaulding Youth Center is pleased to present its most recent Spaulding Spirit Award to Linda Pletch, Supervisor of the Behavioral Therapy Team. This peer-nominated recognition is presented at each quarterly staff meeting to one employee who exemplifies Spaulding Spirit and makes peers proud to be working by their side.
Among several compelling nominations, Ms. Pletch was described by her colleagues as "always focused on what's best for our students and respects all staff" and "open, reflective, introspective and brilliant!" Ms. Pletch began her journey at Spaulding in January of 1989, making her one of the organization's longest-tenured employees. She started as the Associate Director of Clinical Services before accepting a position as Supervisor of the Lambert Program, where she managed the educational and residential program for 12 students. Following this role, Ms. Pletch accepted a training coordinator position which supported both academic and residential staff. When a Behavioral Analyst position was created in May 2014, Ms. Pletch was excited to return to her first passion and accepted the challenge of this new position. She continues to hold the same position today.
"Linda is a true asset to our organization, students, families and staff," said Susan C. Ryan, President & CEO of Spaulding Youth Center. "Her genuine and compassionate disposition as well as her intuitive and collaborative nature are the foundation of the positive and productive culture we foster on campus. Linda richly deserved this recognition and we are thrilled to have an opportunity to shine a bright light on her excellent work."
Linda previously worked at the May Institute before earning a Master of Arts in Human Development and Family Life from the University of Kansas. She is a Board Certified Behavior Analyst (BCBA) and has also earned a certificate for Behavioral Intervention in Autism from UMass-Lowell. In her spare time, she enjoys golfing and visiting her daughter, son and grandchildren.
About Spaulding Youth Center
Spaulding Youth Center is a leading provider of services for children and youth with neurological, emotional, behavioral, learning and/or developmental challenges, including Autism Spectrum Disorder and those who have experienced significant trauma, abuse or neglect. Services include academic, behavioral health, residential, foster care, health and wellness and family support. Spaulding Youth Center is a tax-exempt 501(c)(3) nonprofit. For information about Spaulding Youth Center, visit www.spauldingyouthcenter.org.
Interested in Learning More About Our Vibrant Campus?
If you are interested in an insider's view of a day in the life of Spaulding Academy & Family Services, we recommend visiting our online photo gallery or our video gallery. These are updated weekly so keep checking back for more great Spaulding moments!