Laurie Ann Mayhew Aesthetics & Reiki Practice Donates Holiday Gift Tree to Spaulding Youth Center
January 30, 2020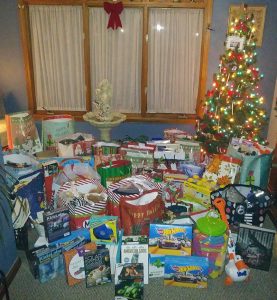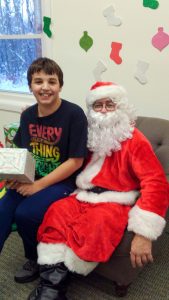 Manchester, NH – Spaulding Youth Center is happy to announce that Laurie Ann Mayhew Aesthetics & Reiki Practice, based in Laconia, New Hampshire, donated a holiday gift tree to Spaulding Youth Center. The tree was filled with items directly requested by Spaulding students in anticipation of the holiday season.
Laurie Ann Mayhew is a licensed esthetician and Reiki master teacher and has many dedicated clients who regularly visit her Laconia studio. Ms. Mayhew and her clients donate to a local organization in need each holiday season as a means of giving back to their beloved community. This year, Ms. Mayhew chose Spaulding Youth Center as the gift tree recipient after touring its Northfield, New Hampshire campus and learning more about the organization's work and mission to better the lives of the children and youth it serves. Ms. Mayhew and her clients generously donated holiday gifts, including games, arts and crafts supplies, dolls, cars and trucks, and gift cards. Necessary essentials, such as clothes and winter hats and gloves, were also donated.
"We are tremendously grateful to the Laurie Ann Mayhew Aesthetics & Reiki Practice and Ms. Mayhew's wonderful clients for donating a holiday gift tree filled with so many items that brought heartwarming memories to our kids on Christmas morning," said Susan C. Ryan, President & CEO of Spaulding Youth Center. "Receiving these generous gifts provided positive memories for the children and families we serve. We deeply appreciate the support of community members like Ms. Mayhew as the kindness shown serves as an incredible inspiration for our students and staff members."
To learn more about Laurie Ann Mayhew Aesthetics & Reiki Practice, visit http://www.relaxhealrenew.com/.
Interested in Learning More About Our Vibrant Campus?
If you are interested in an insider's view of a day in the life of Spaulding Academy & Family Services, we recommend visiting our online photo gallery or our video gallery. These are updated weekly so keep checking back for more great Spaulding moments!