Kristine Groz: Inspiration Leads to Growth
March 08, 2021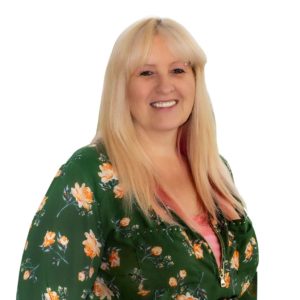 It's been almost 21 years since Kristine Groz of Northfield started her career at Spaulding Academy & Family Services. Her gentle and patient demeanor made her a great fit for her first position as associate teacher in the neurobehavioral classrooms.
Her time working with now-retired teacher Theresa Hemmer served as a mentorship opportunity. Kristine credits her instruction and example – coupled with the resilience her students exhibited daily – with inspiring her to use her courage and drive to return to college and become the professional she is today. While Kristine already held an associate degree in medical records, her deep passion for learning and desire to help children improve their lives through better communication skills motivated her to pursue a new path. With support from Spaulding, she earned another associate degree and now serves as a Speech-Language Pathology Assistant (SLPA) at Spaulding Academy.
Today, Kristine helps students with a wide range of speech and language abilities. Some require an augmentative and alternative communication (AAC) device, while others have emotional disabilities in addition to speech challenges. She enjoys the individual time she spends with each student, which helps them to open up and talk more than they otherwise would.
Her team members admire her dedication to every child's success and her ability to connect one-on-one with them. Kristine says her students give her more than she could ever give them, and each one has a special place in her heart. It brings her much joy when former students stop and talk to her in the halls. Kristine has seen many changes at Spaulding since she joined the organization. The educational opportunities for children of all abilities have greatly expanded, and she has changed because of her experiences, too. Kristine and her husband live only a mile away from Spaulding, and it has become like a second home to her. They have three grown daughters, and two of them are following in Kristine's footsteps: one has joined the Spaulding team, and the other is pursuing a teaching degree. It seems her inspiration continues to have ripple effects.