Kristine Groz Honored with Spaulding Spirit Award
August 27, 2020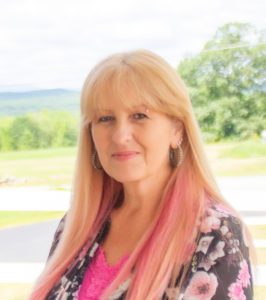 Northfield, NH – Spaulding Youth Center has named Kristine Groz as the latest Spaulding Spirit Award winner. The award recognizes exemplary employees based on co-worker nominations and is presented during quarterly staff meetings.
A Northfield resident, Kristine Groz has been employed with Spaulding Youth Center for 20 years. Her first position was associate teacher in the neurobehavioral disorder classrooms. Groz credits her classroom mentorship with retired teacher Theresa Hemmer, along with the resilience demonstrated by her students, as the inspiration to return to school to earn an associate degree and pursue a new career path. Today, she serves as a Speech-Language Pathology Assistant (SLPA) at Spaulding Youth Center.
"Kristine's ability to connect one-on-one with her students, her passion for learning, and her caring nature exemplify the spirit of Spaulding Youth Center," says Collen Sliva, School Principal & Special Education Director of Spaulding Youth Center. "She is committed to providing life-changing communication skills to her students and is truly a joy to have on our team."
Groz shares that she enjoys working with students across speech and language levels, ranging from those requiring an augmentative and alternative communication (AAC) device, to others with emotional disabilities.
"Speech and communication are the keys to children's advancement and growth. I love observing the transformation that occurs in our students once they hone those skills and gain the ability to communicate," Groz explains. "My students give me more than I could ever give them. Every single one I've worked with has a special spot in my heart."
She credits her success to the ongoing support she receives from Spaulding Youth Center, her SLP mentors and co-workers, her husband, and three daughters. Two her daughters are following in her footsteps: one has joined the Spaulding Youth Center team and another is pursuing a teaching degree.
For more information about Spaulding Youth Center and its comprehensive special education services, visit www.spauldingyouthcenter.org.
About Spaulding Youth Center
Spaulding Youth Center is a leading provider of services for children and youth with neurological, emotional, behavioral, learning and/or developmental challenges, including Autism Spectrum Disorder and those who have experienced significant trauma, abuse or neglect. Services include academic, residential, clinical, community based, foster care, and family support. Established in 1871 and known as Spaulding Youth Center since 1958, our scenic hilltop campus is located on over 500 acres in Northfield, NH and welcomes boys and girls from ages 4 to 21 from around the state of New Hampshire and beyond. Spaulding Youth Center is a tax-exempt 501(c)(3) nonprofit. For information about Spaulding Youth Center, visit www.SpauldingYouthCenter.org.
Interested in Learning More About Our Vibrant Campus?
If you are interested in an insider's view of a day in the life of Spaulding Academy & Family Services, we recommend visiting our online photo gallery or our video gallery. These are updated weekly so keep checking back for more great Spaulding moments!