Jason Sterner: Inspiring Adventure and Empowering Students
July 01, 2023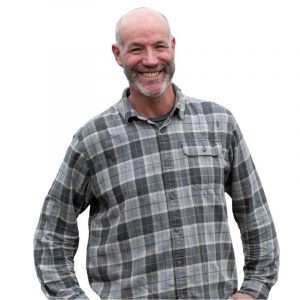 Jason Sterner is a long-time friendly face and enthusiastic advocate of adventure-based learning whether throughout our 500+-acre campus or in surrounding areas. In fact, he celebrated 25 years this year, with 23 years of these as the Outdoor Education Coordinator of the Experiential Challenges Outdoors (EChO) program at Spaulding Academy. EChO provides students the chance to learn to take positive risks and embrace challenges with outside activities. An important part of EChO is cutting-edge adaptive equipment so each child can access the same lessons as their peers.
Over the past 25 years, Jason has grown our EChO program significantly, including adding exciting new programs and features to challenge our students. A few of Jason's favorite projects include an enormous high ropes course set in large poles in one of our beautiful fields, a low-ropes and canopy course, a video series that involves staff and students in spoofs of "Man vs. Wild" and the 7-mile public multi-use trail network built in 2013 for mountain bikers and hikers. Coming this summer are a nature-based playground, a small mountain bike flow trail added to our skill park, and a universally accessible tree house to enable students with mobility issues to share in the joy of 'climbing.'
Spaulding students benefit from Jason's experience as a rock and ice-climbing guide for EMS and as an adjunct professor for his alma mater, Plymouth State University, where he earned his M.Ed. in Adventure Education. Over the years, Jason has earned multiple certifications to round out his already impressive resume as well as to offer more opportunities, such as paddleboarding, to the children in his classes.
Jason loves planning and designing activities and lessons. He shares, "When the kids walk away with the sense that the day was fun because we were all together and everyone participated, that's a victory for us."