Hair Stylists Bring Services to Spaulding
February 09, 2021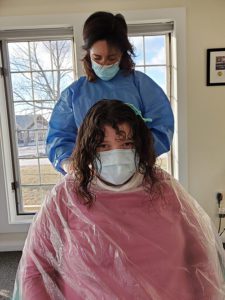 Residential students at Spaulding Academy & Family Services (formerly Spaulding Youth Center) were recently treated to on-site haircuts by local hair stylists and mother-daughter team, Janet and Stacey Robitaille. The kids were excited to shed some of the long locks they acquired during the COVID-19 pandemic, all while staying on campus and following safety precautions.
Janet and Stacey visited campus on two different weekends for three hours each to serve every child who needed a haircut – 33 children in all. They also provided their services at a discount.
"We are grateful for the generosity Janet and Stacey have demonstrated to Spaulding and our children," said Amanda Champagne, Executive Director of Family Services. "They were amazing with the kids and everyone enjoyed each other's company. It was a great experience!" The Robitailles plan to visit Spaulding again soon to assist children who were unable to attend their other sessions. The residential team looks forward to continuing to work with these talented and thoughtful hair stylists!
Click here to read coverage of this news in the Laconia Daily Sun and the Concord Monitor. For print-ready pdfs, click here for the Laconia Daily Sun, and here for the Concord Monitor.
Interested in Learning More About Our Vibrant Campus?
If you are interested in an insider's view of a day in the life of Spaulding Academy & Family Services, we recommend visiting our online photo gallery or our video gallery. These are updated weekly so keep checking back for more great Spaulding moments!