Fantasies Took Flight at Spaulding Youth Center's 27th Annual Arts Festival
June 12, 2013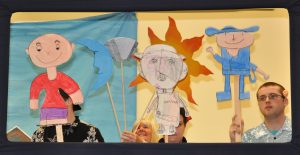 Arts and Music Coordinator Andrew Raeside teamed up with visiting artist Michael Zerphy to inspire Spaulding Youth Center students to dream up skits, acts and mimes for the annual arts festival billed as "Flight of Fantasy." The audience was delighted with the results. Among the many and varied performances were Dan Gilbert's class miming the building of a fantasy house; Theresa Hemmer's class miming a day at a Hawaiian beach; Denise Luneau's class putting on a puppet show using large stick puppets and Mirjana Karic's class creating a hilarious skit using knock, knock jokes. All the classes put a lot of thought and effort into their performances, props and costumes.
Raeside was very proud of the children's performances and commented, "Flight of Fantasy is a wonderful theme for the Arts Festival because it enables children with special needs to participate at any level. Our students love to perform and they enjoy the satisfaction of successfully entertaining the audience."
Spaulding Youth Center leverages professional expertise to help young people with autism or other developmental and/or behavioral challenges learn the academic and life skills needed to be successful in their homes, schools and communities.
For information about Spaulding Youth Center, contact Gail Mayhew, Director of Development at 603-2867500 ext. 532; GMayhew@SpauldingYouthCenter.org or visit www.spauldingyouthcenter.org.
Interested in Learning More About Our Vibrant Campus?
If you are interested in an insider's view of a day in the life of Spaulding Academy & Family Services, we recommend visiting our online photo gallery or our video gallery. These are updated weekly so keep checking back for more great Spaulding moments!