Evie Stacy, Spaulding Youth Center Medical Director, Named 2016 Nurse Practitioner of the Year
June 01, 2016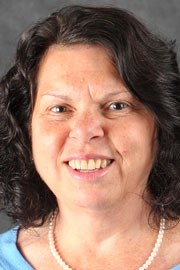 Spaulding Youth Center is proud to announce Evie Stacy, Spaulding Youth Center Medical Director, was named the 2016 New Hampshire Nurse Practitioner of the Year. Since 2004, Ms. Stacy has played a critical role on our esteemed medical team here on campus.
Ms. Stacy was honored at a special reception held at the Radisson Hotel Manchester following the 23rd Annual Northeast Regional Nurse Practitioner Conference. During this event, Ms. Stacy's dedication to the health and well‐being of Spaulding Youth Center students was highlighted along with the many other contributions to her Dartmouth Hitchcock office and the NH Nurse Practitioner Association, including assisting in the organization of this year's conference.
Each year, the New Hampshire Nurse Practitioner Association (NHNPA) names one recipient as the Nurse Practitioner of the Year. Requirements to be considered as a nominee includes qualifying as an Advanced Registered Nurse Practitioner, upholding a full member and in good standing for the NHNPA, making a significant contribution to the role of Nurse Practitioner at state and/or national level. Composed of past award recipients, the selection committee meets to review nominations and vote on the coming year's recipient.
Ms. Stacy's 35‐year career has been dedicated to caring for the physical and mental health of New Hampshire's children. "I feel very fortunate to have worked with so many children and families, and to have been an integral part of their healthcare," shared Ms. Stacy. She is an outstanding practitioner who partners with her patients to help them reach their full potential.
About Spaulding Youth Center
Spaulding  Youth  Center  is  a  leading  provider  of  services  for  children  and  youth  with neurological,  emotional,  behavioral,  learning  and/or  developmental  challenges  including Autism Spectrum Disorder. Services include academic, behavioral health, residential, foster care, health and wellness and family support. Spaulding Youth Center Foundation is a tax‐exempt  501  (c)(3)  nonprofit.  For  information  about  Spaulding  Youth  Center,  visit www.spauldingyouthcenter.org.
Interested in Learning More About Our Vibrant Campus?
If you are interested in an insider's view of a day in the life of Spaulding Academy & Family Services, we recommend visiting our online photo gallery or our video gallery. These are updated weekly so keep checking back for more great Spaulding moments!