Denise Elliott: Motivated by Enduring Relationships
January 22, 2022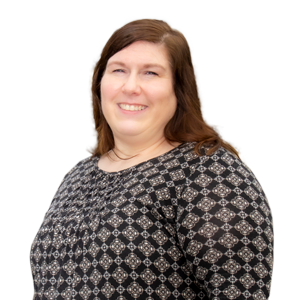 In 1997, Denise Elliott learned that Spaulding Academy & Family Services was seeking part-time residential employees. She was employed at Franklin Regional Hospital, now Lakes Region General Hospital (LRGH), in the Central Sterile Department and received her LNA (licensed nursing assistant) license while working there. She was interested in adding a part-time job to her schedule and ended up becoming a part-time residential substitute at Spaulding – for an impressive 14 years! Denise then transitioned to a full-time overnight residential assistant, which happily gave her the opportunity to work with her best friend. For 20 years, she worked two full-time jobs between LRGH and Spaulding.
Denise now serves as Spaulding's residential staff coordinator, a position she has held for three years. She manages staffing and payroll for the residential team. During interviews with potential employees, she always shares how the team members are blessed to have such supportive leaders: their focus on family and work-life balance is one of the main reasons so many Spaulding employees spend years (and even decades!) working at the organization.
Denise still works at LRGH in the Central Sterile Department, helping to sterilize surgical tools and prepare them for future surgeries. However, her passion is Spaulding and her frequent opportunities to interact with the children alongside the staff she considers family. She has seen many positive changes in her years on-campus: the organization has become much more inclusive and interconnected, and the children are enriched by a more traditional education experience.
One thing that hasn't changed in Denise's time at Spaulding are the unique relationships staff build with the children. She insists there is a staff member for every child – at least one that a child creates a special connection with – and believes that is the beauty of Spaulding. Denise's caring heart, thoughtfulness, and can-do attitude have contributed to that magic on the residential team for 24 years…and counting.