Dawn Hinxman: Making a Daily Difference
September 27, 2022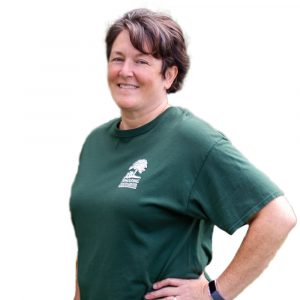 If you ask Dawn Hinxman what she enjoys most about her role at Spaulding Academy & Family Services, one word comes to her mind: "family." Dawn, who serves as office manager of the Support Services team, loves the supportive and caring family feeling that's found campuswide.
"Spaulding is a true family. The staff treat each other – and the children in our care – like family," she explains. "Everybody helps each other and does what is best for the kids. That keeps me motivated and happy to be here every day."
Dawn became part of the Spaulding Family in 2014. She lived nearby, knew two employees already, and had heard wonderful reviews about Spaulding through her job as a therapy scheduler at the Concord Regional Visiting Nurse Association. When an administrative assistant position opened on Spaulding's Behavioral Health team, Dawn jumped at the chance to be part of the organization. With an associate degree in Legal Administration from Champlain College, and years of experience working in similar roles within various health care settings, she applied – and, happily, was offered the position.
In 2015, a similar position opened on the Spaulding Support Services team, so Dawn transferred to that department as an administrative assistant. She has since been promoted to office manager. Her role is a busy and multifaceted one: she supports the work of the maintenance, food services, technology, and housekeeping staff by ordering inventory, assigning and tracking work orders, scheduling contractors, and managing vehicle maintenance. Dawn's expert product negotiation skills have even helped save Spaulding $16,000 a year!
When she isn't on campus, Dawn is spending quality time with her husband and two kids, and hiking with her German Shepard. She likes to relax by knitting and crafting – and enjoys kicking it up a notch by riding her motorcycle.
Dawn's contributions to Spaulding are countless and often unseen. Her dedication and skill make operations run smoothly on campus – while her caring heart and supportive nature make her a joyful, and essential, member of the Spaulding Family.