Cindy Foley, Primary Vaccine Manager and RN at Spaulding Youth Center, Receives the CDC Childhood Immunization Champion Award
June 06, 2016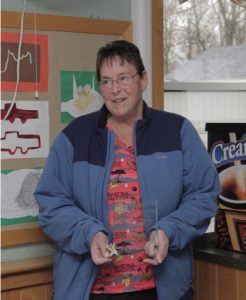 Spaulding Youth Center is proud to announce our Primary Vaccine Manager and RN, Cindy Foley, received the Centers for Disease Control and Prevention's 2016 Childhood Immunization Champion Award during National Infant Immunization Week.
Throughout Ms. Foley's career, she has been drawn to children with special needs and dedicated to help them reach their full potential. As the Primary Vaccine Manager at Spaulding Youth Center, Ms. Foley is responsible to create a warm, calming and supportive environment to accommodate the special needs students on campus. Over the past decade at Spaulding, she has developed an exceptional approach to specifically support the unique needs of our special needs students, for whom routine medical procedures can be a challenge. She performs practice sessions with each child, utilizing this opportunity to monitor facial expressions and body language to identify fears or anxieties specific to that student. This additional time and effort enables Ms. Foley to proactively desensitize the student for the actual vaccination. Her approach has enabled the vaccination of hundreds of children, protecting them against vaccine‐preventable diseases.
"Cindy Foley is one of many invaluable, long‐term team members here on campus, and we are so thrilled that her hard work and dedication to Spaulding students was recognized as a leader in New Hampshire by a national organization" shared James Clements, CEO & President of Spaulding Youth Center. "With her help, several of our most challenging students who arrived with non‐medical vaccination exemptions have been brought up‐to‐date on their immunizations. Our organization is honored to have her as a part of our team."
The Childhood Immunization Champion Award is given out annually by the CDC Foundation and the CDC to recognize individuals who make significant contributions toward improving community health through childhood immunization. One recipient is honored in every state and Ms. Foley was selected as the New Hampshire's CDC Childhood Immunization Champion. Each nominee must demonstrate considerable authority on immunization in their community, collaboration to help build and strengthen partnerships and groups that increase immunization rates in infants and young children, use innovative strategies to promote immunizations in their communities, and be an advocate in advancing policies to support local immunizations.
About Spaulding Youth Center
Spaulding Youth Center is a leading provider of services for children and youth with neurological, emotional, behavioral, learning and/or developmental challenges including Autism Spectrum Disorder. Services include academic, behavioral health, residential, foster care, health and wellness and family support. Spaulding Youth Center Foundation is a taxexempt 501 (c)(3) nonprofit. For information about Spaulding Youth Center, visit www.spauldingyouthcenter.org.
Interested in Learning More About Our Vibrant Campus?
If you are interested in an insider's view of a day in the life of Spaulding Academy & Family Services, we recommend visiting our online photo gallery or our video gallery. These are updated weekly so keep checking back for more great Spaulding moments!