Carol Sanborn Receives Spaulding Youth Center's Spaulding Spirit Award
May 15, 2019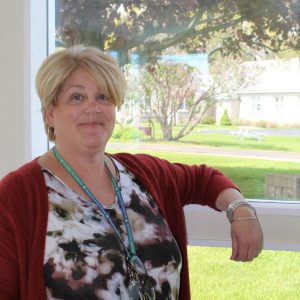 Spaulding Youth Center is pleased to present its most recent Spaulding Spirit Award to Carol Sanborn, Quality Improvement Coordinator. This peer-nominated recognition is presented at each quarterly staff meeting to one employee who exemplifies Spaulding Spirit and makes peers proud to be working by their side.
Among numerous thoughtful and compelling nominations, Ms. Sanborn was described by her colleagues as a real go getter, a visionary with a soft heart, positive and cheerful, creative and wise, a great problem solver, and the ultimate team player. Of course, her nomination also included admiration for her knowledge and experience – 34 years and counting!
Ms. Sanborn joined Spaulding thirty-four years ago as a residential counselor in the organization's Lambert residence hall. After two years in a residential role, Ms. Sanborn accepted the position of secretary in Spaulding's program office. She stayed in this position for eighteen years before transferring to a school secretary role. In 2005, Ms. Sanborn was approached about a newly created recruiting and licensing specialist position for Spaulding's Individual Service Option (ISO) foster care program. She accepted this new venture and worked in this role for over ten years before accepting the title of Quality Improvement Coordinator. In this current role, Ms. Sanborn is responsible for ensuring Spaulding Youth Center has the policies and procedures in place to qualify for accreditation by the Commission on Accreditation of Rehabilitation Facilities (CARF). CARF International provides accreditation services worldwide at the request of health and human service providers.
Ms. Sanborn established a significant connection with Spaulding students and staff members at the onset of her career and has been an integral part of the organization ever sense. She even serves as a guardian for a child, now grown, who was previously enrolled in Spaulding's program. Ms. Sanborn identifies the development of Spaulding's Community-Based Program as one of the most pivotal moments in the organization's history.
"Carol has been a vital member of our staff and organization for the past thirty-four years," said Susan C. Ryan, President & CEO of Spaulding Youth Center. "Her dedication to our students, families, foster children and staff members is truly inspiring. Carol continues to tackle new positions with enthusiasm and determination. This peer recognition is truly well deserved."
Ms. Sanborn was born and raised in Manchester, New Hampshire. In her spare time, she enjoys riding motorcycles with her husband of thirty-two years and spending time with her children and grandchildren.
About Spaulding Youth Center
Spaulding Youth Center is a leading provider of services for children and youth with neurological, emotional, behavioral, learning and/or developmental challenges, including Autism Spectrum Disorder and those who have experienced significant trauma, abuse or neglect. Services include academic, behavioral health, residential, foster care, health and wellness and family support. Spaulding Youth Center is a tax-exempt 501(c)(3) nonprofit. For information about Spaulding Youth Center, visit www.spauldingyouthcenter.org.
Interested in Learning More About Our Vibrant Campus?
If you are interested in an insider's view of a day in the life of Spaulding Academy & Family Services, we recommend visiting our online photo gallery or our video gallery. These are updated weekly so keep checking back for more great Spaulding moments!