Carol Sanborn – A True Go-Getter for Almost 35 Years
February 05, 2020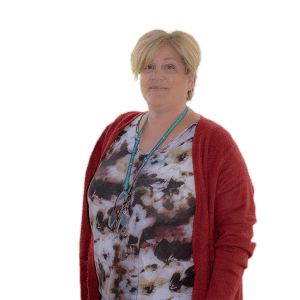 Carol Sanborn is described by her colleagues as a creative, wise and positive go-getter and problem solver. While some say time changes everything, that is certainly not the case for Carol's work ethic – she has been part of the Spaulding Youth Center family for almost 35 years!
Carol began her journey at Spaulding thirty-four years ago as a residential counselor in the organization's Lambert residence hall. After two years in this role, she accepted the position of secretary in Spaulding's program office. She stayed in this position for eighteen years before transferring to a school secretary role. In 2005, Carol trusted her go-getter instincts when she was accepted a newly created recruiting and licensing specialist position for Spaulding's Individual Service Option (ISO) foster care program. Her creativity and positive attitude shined in this role for over ten years before she accepted her current role of Quality Improvement Coordinator. In this role, Carol is responsible for ensuring Spaulding Youth Center has the policies and procedures in place to qualify for accreditation by the Commission on Accreditation of Rehabilitation Facilities (CARF). CARF International provides accreditation services worldwide at the request of health and human service providers.
Carol credits her strong connections with students and staff members as the reason she chose to grow her career at Spaulding. She believes the development of Spaulding's community-based program is one of the organization's most inspiring and pivotal moments since she joined. In fact, she was so inspired by Spaulding's commitment to find loving and caring homes for foster children that she currently serves as a guardian for a child, now grown, who was previously enrolled in Spaulding's program.
We are so proud to have team members like Carol who are truly dedicated to their work. Carol's soft heart, wisdom and determination have been a tremendous inspiration to our students, staff members and supporters.