Bridget Desjardins: Making a Difference for our Youngest Students
December 03, 2021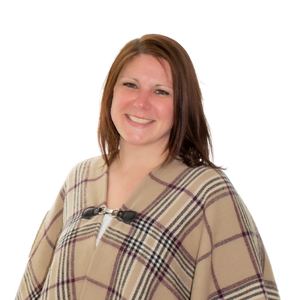 Today, Bridget Desjardins is a Special Education Teacher at Spaulding Academy & Family Services, currently working with kindergarten through second grade students who inspire confidence that she made the right career choice. When Bridget was hired as a paraprofessional at Spaulding in 2015, she was a former preschool teacher seeking an opportunity to work in special education. She quickly felt at home with the school and the kids, so she started seeking positions with more responsibility.
Bridget served as a teaching associate for two years and then made the leap to become a teacher. She earned her teaching certificate and returned to college to pursue and complete her early childhood education degree from Plymouth State University. She was able to work as a teacher while taking classes, and knew it was the perfect fit. The kids bring her so much joy and inspire her daily with their progress and desire to learn.
Bridget is well-respected by her coworkers for her energetic and encouraging spirit. She serves as a leader among the team and readily offers advice and assistance to her fellow teachers. She is a creative teacher and is always open to trying new strategies, and reports that Trust-Based Relational Intervention® (TBRI) Practitioner Training has helped her value the benefit of providing students positive and nurturing learning experiences. This training is designed for teachers and professionals working with children and families impacted by trauma, and this program has empowered Bridget to know how to demonstrate to her students that they are loved, cared for, and have trusted adults to keep them safe.
The students in Bridget's class are proof that her positive efforts are effecting change. Behavioral issues are significantly lower, and several of her students have demonstrated accelerated academic growth since entering her class. Bridget is a Spaulding changemaker: she gives her students her very best, and their academic, developmental, and emotional improvements clearly show how love and safety are in abundance in her classroom.