Brady Sullivan Properties Donates Twenty Bicycles to Spaulding Youth Center
January 28, 2020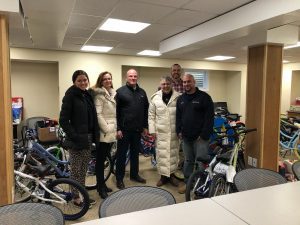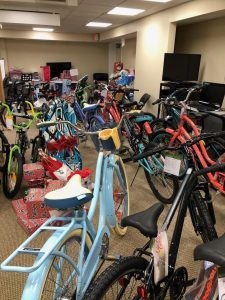 Manchester, NH – Spaulding Youth Center is excited to announce that Brady Sullivan Properties, the thriving real estate development corporation established in Manchester, New Hampshire in 1992, chose its organization as a recipient of brand-new bicycles for the holiday season. Spaulding was one of twelve New Hampshire organizations to be gifted bicycles as part of this second annual project with a goal to donate 1,000 bicycles to children and youth in need across New Hampshire, Massachusetts and Rhode Island.
Brady Sullivan employees chose which organizations would receive bike donations and worked directly with Spaulding staff to determine the needed bike sizes, recipient ages, and to coordinate delivery. The week before Christmas, employees arrived on the Northfield, NH campus in a delivery truck filled with twenty bikes.
"We are very thankful to Brady Sullivan Properties for donating these wonderful new bicycles to our students this past holiday season," shared Susan C. Ryan, President & CEO of Spaulding Youth Center. "Our residential students love outdoor activities like bike riding but purchasing brand-new bicycles for 20 children would be financially unattainable for us. This gesture was incredibly generous and appreciated by everyone on our campus. We are grateful for companies like Brady Sullivan who give back to those in need in their local communities and for bringing joy to so many of our students during the holidays. The children will love using these bikes for a long time to come."
In a statement, Kim Brady of Brady Sullivan said, "This is an enormous team effort that incorporates Brady Sullivan staff from every department within the organization, across multiple states. We are so proud to be a part of the communities we work in, and this is a wonderful opportunity for our entire team to participate in giving back to the friends and neighbors who mean so much to us. Seeing the smiles on so many kids' faces, many of whom have never had a new bike of their own before, makes it all worth it this holiday season."
To learn more about Brady Sullivan Properties, visit https://bradysullivan.com/.
About Spaulding Youth Center
Spaulding Youth Center is a leading provider of services for children and youth with neurological, emotional, behavioral, learning and/or developmental challenges, including Autism Spectrum Disorder and those who have experienced significant trauma, abuse or neglect. Services include academic, behavioral health, residential, foster care, health and wellness and family support. Spaulding Youth Center is a tax-exempt 501(c)(3) nonprofit. For information about Spaulding Youth Center, visit www.spauldingyouthcenter.org.
Interested in Learning More About Our Vibrant Campus?
If you are interested in an insider's view of a day in the life of Spaulding Academy & Family Services, we recommend visiting our online photo gallery or our video gallery. These are updated weekly so keep checking back for more great Spaulding moments!