Ben & Jerry's Meredith Selects Spaulding Youth Center as First Recipient of Project Joy Donation
May 22, 2020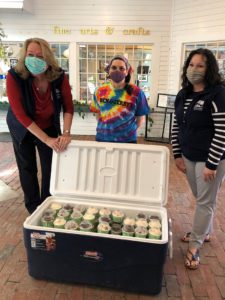 Northfield, NH – Spaulding Youth Center is happy to announce it was selected as the first recipient of Ben & Jerry's Project Joy donation. Launched by Ben & Jerry's Meredith, NH scoop shop, Project Joy is a new initiative to spread joy to first responders and front-line workers with donations of ice cream.
Like many who are working the front lines during this pandemic, our staff are leaving the safety of their homes to report to work. Every day, our front lines provide 24/7 care and attention to our residential students. This includes helping students with their education, meals, showers, playtime, bedtime stories, and much more. Because of the devoted staff, our children feel safe and supported during this uncertain time.
"We are so thankful for this generous and yummy donation," said Susan C. Ryan, President & CEO of Spaulding Youth Center. "Ice cream is something that brings joy to children and adults alike. We thank Ben & Jerry's-Meredith for providing these delicious treats to our residential students and front-line staff members during this otherwise unusual time."
The Project Joy donation to Spaulding Youth Center is the kick-off for Ben & Jerry's new initiative. The local scoop shop plans to give away 1,000 cups of ice cream to other front-line workers and first responders in the community through May 31, 2020.
Ben & Jerry's-Meredith is located at Mill Falls Marketplace, 312 Daniel Webster Highway, Meredith, New Hampshire. Visit https://www.benjerry.com/Meredith for more information.
About Spaulding Youth Center
Spaulding Youth Center is a leading provider of services for children and youth with neurological, emotional, behavioral, learning and/or developmental challenges, including Autism Spectrum Disorder and those who have experienced significant trauma, abuse or neglect. Services include academic, residential, clinical, community based, foster care, and family support. Established in 1871 and known as Spaulding Youth Center since 1958, our scenic hilltop campus is located on over 500 acres in Northfield, NH and welcomes boys and girls from ages 4 to 21 from around the state of New Hampshire and beyond. Spaulding Youth Center is a tax-exempt 501(c)(3) nonprofit. For information about Spaulding Youth Center, visit www.spauldingyouthcenter.org.
Interested in Learning More About Our Vibrant Campus?
If you are interested in an insider's view of a day in the life of Spaulding Academy & Family Services, we recommend visiting our online photo gallery or our video gallery. These are updated weekly so keep checking back for more great Spaulding moments!