Belknap Mill Quilt Guild Pledges to Donate Comfort Quilts for Spaulding Residential Students
January 27, 2016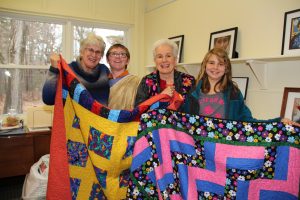 Spaulding Youth Center students were treated to some homemade comfort for the holidays by the Belknap Mill Quilt Guild. After contacting Spaulding in early December, this 106‐member organization pledged to provide handmade comfort quilts for the holidays. A few short weeks later, Guild representatives visited the Northfield, NH campus to hand‐deliver 23 quilts for Spaulding students. However, their experience spawned an entirely new initiative. Now this community‐minded organization is working toward delivering a custom comfort quilt to each residential student based on their gender, age, color preferences and interests. Each quilt requires 100+ hours to complete, which means over 5,700 hours will be donated to provide comfort and care to Spaulding students by the time this initiative is fulfilled if it is successful.
"The first quilt delivery has already caused a positive wave of good will across campus and beyond with our students and staff," shared James Clements, Spaulding Youth Center CEO & President. "Many of these students arrive at Spaulding without many personal belongings. For these students, receiving a handmade quilt that is not only their very own but also designed specifically for them can be literally life changing. The Belknap Mill Quilt Guild has earned the nickname of 'our quilt angels' on campus."
Following this second delivery of comfort quilts, the Belknap Mill Quilt Guild has expressed an interest in learning more about Spaulding day students as well as children in Spaulding's Individual Service Option (ISO) Foster Home Program.
ABOUT SPAULDING YOUTH CENTER 
Spaulding Youth Center is a leading provider of services for children and youth with neurological, emotional, behavioral, learning and/or developmental challenges including Autism Spectrum Disorder. Services include academic, behavioral health, residential, foster care, health and wellness and family support. Spaulding Youth Center Foundation is a tax‐exempt 501 (c)(3) nonprofit. For information about Spaulding Youth Center, visit www.spauldingyouthcenter.org.
ABOUT BELKNAP MILL QUILT GUILD
The Belknap Mill Quilters Guild, Inc. The Belknap Mill Quilters Guild, Inc., was founded in May of 1978, and incorporated in 2001. The guild started with 22 members and has grown to over 100 today. Members come from over 20 towns/cities in and around the Lakes Region. www.bmqg.org
Interested in Learning More About Our Vibrant Campus?
If you are interested in an insider's view of a day in the life of Spaulding Academy & Family Services, we recommend visiting our online photo gallery or our video gallery. These are updated weekly so keep checking back for more great Spaulding moments!