Back in the Saddle Equine Therapy Center Visits Spaulding Youth Center
September 26, 2018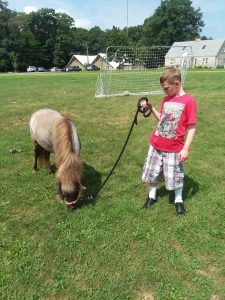 Spaulding Youth Center is pleased to announce Back in the Saddle Equine Therapy Center (BITS ETC) recently visited its Northfield, New Hampshire campus.
Spaulding Youth Center's students were invited to spend time with Missy the mini pony right on our campus quad. The children spent time petting and brushing the therapeutic animal as well as walking her on a lead. One student was proud to successfully braid her thick tail.
Located in Hopkinton, New Hampshire, BITS ETC is a 501(c)3 non-profit that offers therapeutic riding and equine-assisted activities for people living with disabilities in central New Hampshire.
"Our P.A.T.H. International certified instructor, Melissa LoVetere, was excited to introduce a new group of students to one of our healing horses," said Pauline Meridien, Executive Director of BITS ETC. "Over the past fifteen years, BITS ETC has seen countless students gain physical strength and emotional resiliency on the back of a horse. Learning how to work with a horse teaches so much more than riding."
"We were thrilled to welcome BITS ETC to campus and to introduce our students to Missy during a stunning summer day on our scenic hilltop," added Susan C. Ryan, CEO & President of Spaulding Youth Center. "Our students thoroughly enjoyed this positive therapeutic experience."
BITS ETC was the first facility in the Northeast to be licensed by SpiritHorse International to offer its award-winning curriculum of special use for riders on the autism spectrum. To learn more about Back in the Saddle Equine Therapy Center, visit http://www.bitsetc.org/.
About Spaulding Youth Center
Spaulding Youth Center is a leading provider of services for children and youth with neurological, emotional, behavioral, learning and/or developmental challenges, including Autism Spectrum Disorder and those who have experienced significant trauma, abuse or neglect. Services include academic, behavioral health, residential, foster care, health and wellness and family support. Spaulding Youth Center is a tax-exempt 501(c)(3) nonprofit. For information about Spaulding Youth Center, visit www.spauldingyouthcenter.org.
Interested in Learning More About Our Vibrant Campus?
If you are interested in an insider's view of a day in the life of Spaulding Academy & Family Services, we recommend visiting our online photo gallery or our video gallery. These are updated weekly so keep checking back for more great Spaulding moments!