Ashley Donahue – The Place She is Meant to Be
October 23, 2019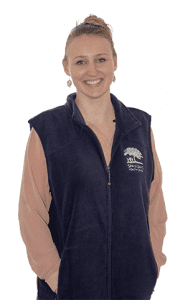 Ashley Donahue knew her professional interest was niche. She always wanted to work with children with emotional and behavioral disorders and wanted to make a difference in the lives of those who were not fortunate enough to have a caring, loving childhood. Ashley had spent time working at the Applied Behavior Analysis (ABA) clinic for Crotched Mountain, an organization dedicated to serving individuals with disabilities and their families. In 2018, she was lucky enough to find a role that would let her explore her interests and blossom in her career: She joined Spaulding Youth Center as a Clinician for the organization's Cutter-Wiggins residence hall.
Ashley's main responsibility as a clinician is to create warm, trusting relationships with the ten children she works with. She enjoys playing with these special kids all day and uses a therapeutic approach to help them work through expressing and identifying difficult emotions. Ashley does this by creating mindfulness and other activities for the kids, bringing them for walks and letting them explore Spaulding's beautiful, rural campus and working diligently to be an integral part of the support system the children need. It is her job to teach the children not only how to play with their peers, but how to actually play in general. Unfortunately, many of these kids never had the opportunity to have a happy, playful childhood at home. Ashley is determined to give the children she works with healthy, positive experiences and the childhood they deserve.
One of Ashley's favorite things about Spaulding Youth Center is that her office happens to be the organization's entire 500-acre, hilltop campus. The scenic, therapeutic environment allows for so many wonderful activities and opportunities for the children. With so many resources available, Ashley considers Spaulding to be like their own little home on top of a mountain.
Ashley is currently in the process of becoming a Licensed Clinical Mental Health Counselor. She hopes to attain this certification by Spring 2020. She is excited to see what the future holds for her and knows she has found the place where she is meant to be.
In her spare time, Ashley enjoys nature and spending time outside, visiting her family and watching movies (especially in the winter!).