Spaulding Youth Center Hosts Annual Thanksgiving Luncheon and Recognizes Community Award Recipient
November 20, 2017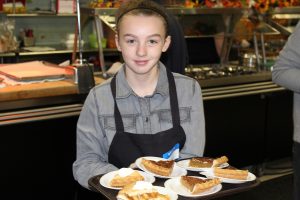 Northfield, NH –  On November 16th, Spaulding Youth Center hosted our annual Thanksgiving luncheon on campus for all students, campus staff, supporters, community partners and friends. With turkeys once again generously donated by MetroCast, the Spaulding Youth Center Dining Services department prepared a traditional turkey dinner with all the trimmings. This feast was then proudly served with a smile by Spaulding Youth Center students.
This annual Thanksgiving feast is a favorite tradition for those both on- and off-campus. Its popularity is demonstrated by the sheer number in attendance. This year, the Thanksgiving dinner accommodated 187 attendees over three separate seating opportunities throughout the afternoon.
"The Thanksgiving season is one of the favorites here on campus for both our students and staff. The holiday serves as a reminder to be thankful for all the wonderful ways Spaulding Youth Center contributes to the lives of those on campus. The annual Thanksgiving feast on campus is a delightful way for students and staff to spend time together celebrating this special time of year," said Susan C. Ryan, President & CEO of Spaulding Youth Center. "Our team also enjoys taking the time to recognize so many community partners who provide ongoing support of our mission. Without their charitable support, we could not achieve the great heights of success we currently reach with our students. Our students look forward to celebrating this time-honored tradition with their friends and our holiday guests."
As part of this year's celebration, Spaulding Youth Center also recognized a community award recipient for his extensive and ongoing support over the years. The 11th Annual You've Got a Friend Award was presented to Art Swenson. Mr. Swenson is a talented local photographer who helped Spaulding Youth Center launch our annual school pictures program three years ago. With his help, families of our students receive a traditional fall school portrait package to commemorate the school year. Mr. Swenson has been a friend and supporter of Spaulding Youth Center and was honored to receive this recognition.
Interested in Learning More About Our Vibrant Campus?
If you are interested in an insider's view of a day in the life of Spaulding Academy & Family Services, we recommend visiting our online photo gallery or our video gallery. These are updated weekly so keep checking back for more great Spaulding moments!