Spaulding Youth Center Holds Annual Authors Tea
November 27, 2017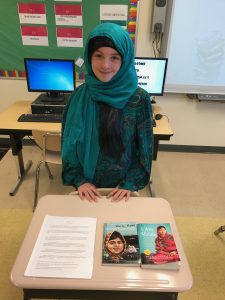 Spaulding Youth Center is proud to announce the success of its annual Authors Tea, held on October 20th. The event celebrated the literary accomplishments of Spaulding Youth Center students. Families and staff toured the classrooms and listened to students read their personal creations. Among the offerings were compelling adventures of dragons, whimsical poetry and beautifully-designed shape books.
One classroom wrote biographies and dressed up as the famous people they researched, including Marie Curie. Assistive technology, such as a scaffold platform setup, was used to support the needs of a student so that he could tell his story. Mrs. Brown's classroom wrote a book about their apple picking field trip, collaborating to recount the activity so they could recreate their experience through a story. Students printed, illustrated and bound their books, which included works of fiction, nonfiction and poetry. The majority of students took the steps to bring their work to a published level by having their book typed and proofread and then creating a colorful cover and special sections, including About the Author.
"Creative writing is such a powerful outlet for our students," shared Principal Colleen Sliva. "The annual Authors Tea allows our students to participate in a project that conveys the importance of reading, writing and creativity. In addition, this event is a great channel for Spaulding students to share their accomplishments with family, friends and peers."
Interested in Learning More About Our Vibrant Campus?
If you are interested in an insider's view of a day in the life of Spaulding Academy & Family Services, we recommend visiting our online photo gallery or our video gallery. These are updated weekly so keep checking back for more great Spaulding moments!