603 United, Including Our Own Garrett Lavallee, Making a Difference for Adults with Disabilities
July 22, 2022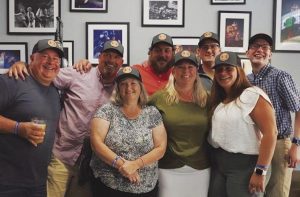 We are so proud of the volunteerism of Garrett Lavallee, Spaulding Academy's Principal and Director of Special Education, who serves on the Board of Directors of 603 United. Read about this important organization for adults with disabilities in the Laconia Daily Sun or click here for a printable pdf.
603 United brings inclusive programming to adults with disabilities
By CATHERINE MCLAUGHLIN, THE LACONIA DAILY SUN
LACONIA — For many students, graduation means the excitement of a new chapter and the promise of higher education or the start of a career. For students with disabilities, and without access to those paths, graduation can be "the worst day of the year."
In school, Unified Sports and courses – where students with and without intellectual disabilities participate together – offer students with disabilities "the opportunity to have normal high school experiences that sometimes they don't get the chance to participate in," said Laurie Belanger, a former guidance counselor whose son, Gerron, is autistic. These programs promote understanding between students of different abilities and offer relationship building, social inclusion and structured group physical activity to young people with disabilities.
With the end of high school, some students with disabilities – who are able to remain in school until age 21 – lose access to structured social activities that help them build skills and foster a vibrant social life.
"A lot of adults with disabilities get isolated," Belanger said. "High school ends and people can scatter to the wind."
Adults can participate in Special Olympics programs, but those who don't want to pursue competitive sports have fewer options.
That's where 603 United comes in.
603 United is a non-profit organization that provides social inclusion programming, such as team sports and group movement activities, to bring together adults in the community with and without intellectual disabilities. Inspired by the success of the Unified Sports programs in local schools, 603 United aims to support adults with intellectual disabilities by providing social structure and connection, physical activity in an accessible and encouraging environment and a wide support system with other participants and volunteers.
The organization was founded by Cassie Contigiani and family friend Kevin Shaw. Contigiani serves as executive director, Shaw as president.
603 United held an Ambassador Kickoff Party at Defiant Records and Craft Beer on July 12 – more than seventy people attended. Ambassadors spread the word about the organization to potential donors, volunteers and participants. Shaw said they were awestruck by the turnout and seeing how far word had spread.
603 United will begin its regular programming on August 10, with two team sports events and two more general group activities, such as walking or crafts, per week. There will be a participant sign-up event on the football field at Laconia High School next Sunday, July 31, from 5 to 7 p.m.
Unified programming not only promotes friendship and mutual support between participants and volunteers, Contigiani emphasized, but between parents and guardians as well, giving them a chance to connect with peers in the community who understand the joys and challenges of their circumstances.
"This program meets a need to be social, involved, and active," said Gerron Belanger, Laurie's son, who sits on 603 United's board of directors. Gerron attended Gilford High School and participated in Unified programs there. "People should know how inclusive it is. It is such a great way for anyone to make new friends and meet new people."
Contigiani first encountered Unified Sports, a program through the Special Olympics, as an underclassmen at Belmont High School.
"I was at a women's championship [soccer] game, and when it was over this other team came out onto the field," Contigiani said. It was a Unified soccer team, and she hung around to watch. Contigiani grew up very close to someone with intellectual disabilities, Laura and, by the end of that first Unified game, she was engrossed. "I said to myself, 'Laura needs to be out on that field, and I need to be in the bleachers supporting her.'"
By her senior year, Contigiani had started a Unified basketball program at Belmont High and, for her senior project, founded the Lakes Region Unified Basketball Jamboree, which this year held its seventh annual event.
"It really showed me all the things that we take for granted – things like having a personal jersey with your name on the back. You could see how much that meant to everyone," Contigiani said of jamboree participants.
Contigiani and Laura were selected to be ambassadors for New Hampshire Special Olympics to the 2015 Special Olympics World Games.
"After graduation, I went off to college and played college athletics," Contigiani said, "and Laura stayed here at Belmont High School."
An injury sidelined Contigiani during her junior year of college soccer. During her recovery, she brought a Special Olympics program to her school, Thomas College in Waterville, Maine.
"It just snowballed from there," she said. After earning both undergraduate and graduate degrees at Thomas, she joined their staff as coordinator of their Unified Champion Club as well as an athletics coach.
Contigiani then decided to return home to the Lakes Region – bringing her experience leading adult Unified programs with her – where she joined forces with family friend Kevin Shaw.
Shaw had been a basketball referee in Gilford schools for years when he was asked to referee some Unified games. They quickly became his favorite games to work.
"I watched students file in to watch those games – more than the non-unified games – and everyone was just cheering each other on," Shaw said. "We need more things like that, where everyone is rooting for each other."
Shaw's regard for Unified sports melded with his growing ambition to give back to his local community.
Shaw and Contigiani then founded 603 United. Shaw commended their board, which includes teachers, counselors, lawyers, business professionals, and someone with intellectual disabilities, for the zeal and joy they have brought to the organization so far.
Their vision is for 603 United to expand into multiple chapters statewide and to build its own location with a small kitchen, an indoor basketball court, a video room to continue engagement during inclement weather.
"It's an opportunity for society to see people with disabilities as community members," said Garrett Levallee, 603 United Board member and Principal at Spaulding Academy and Family Services. "The goal is for there to be a clubhouse where people can come together to enjoy life and build relationships, something everyone deserves the opportunity to do."
Interested in Learning More About Our Vibrant Campus?
If you are interested in an insider's view of a day in the life of Spaulding Academy & Family Services, we recommend visiting our online photo gallery or our video gallery. These are updated weekly so keep checking back for more great Spaulding moments!