Alexsus Bougie Receives Spaulding Youth Center's Spaulding Spirit Award
February 20, 2019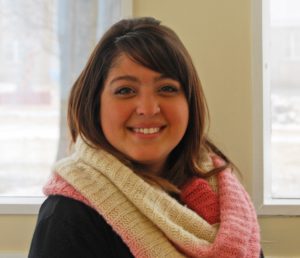 Spaulding Youth Center is pleased to present its most recent Spaulding Spirit Award to Alexsus Bougie, Behavior Specialist. This peer-nominated recognition is presented at each quarterly staff meeting to one employee who exemplifies Spaulding Spirit and makes peers proud to be working by their side.
Among numerous thoughtful and compelling nominations, Ms. Bougie was described by her colleagues as "an artistic worker-bee and the perfect organizer," "a positive and natural leader" and "constantly researching best practices for students with new challenges."
Ms. Bougie joined Spaulding as a Residential Assistant in September of 2013. Her position quickly developed into a mentor and counselor role in the organization's Lambert residence before she took on the responsibility of Shift Leader in the Davis residence. After four years in various residential roles, Ms. Bougie accepted the position of Behavior Specialist. In this position, Ms. Bougie regularly observes the children assigned to her case load, creates behavioral intervention plans, identifies skills children need to develop, and provides ongoing support for other staff members. Ms. Bougie is also an active member of Spaulding's Events Committee, which brings together representatives from across campus departments to plan and execute campus events for students and staff throughout the year.
"Alexsus is an invaluable member of our staff and organization," said Susan C. Ryan, President & CEO of Spaulding Youth Center. "Her compassion for what she does is evident, and we are all inspired by the positive relationships she builds with the children. Her enthusiasm and wonderful smile are infectious! Every day, Alexus comes to campus with a positive attitude, collaborative energy and determination to make a difference. This peer recognition is truly well deserved."
Ms. Bougie has a Bachelor of Science from the University of New Hampshire and a Master of Science in Psychology with an emphasis in Applied Behavior Analysis (ABA) from Capella University. In her spare time, she enjoys Zumba, snuggling with her cats Max and Layla, spending time with her family and visiting the beach.
About Spaulding Youth Center
Spaulding Youth Center is a leading provider of services for children and youth with neurological, emotional, behavioral, learning and/or developmental challenges, including Autism Spectrum Disorder and those who have experienced significant trauma, abuse or neglect. Services include academic, behavioral health, residential, foster care, health and wellness and family support. Spaulding Youth Center is a tax-exempt 501(c)(3) nonprofit. For information about Spaulding Youth Center, visit www.spauldingyouthcenter.org.
Interested in Learning More About Our Vibrant Campus?
If you are interested in an insider's view of a day in the life of Spaulding Academy & Family Services, we recommend visiting our online photo gallery or our video gallery. These are updated weekly so keep checking back for more great Spaulding moments!