Spaulding Youth Center Welcomes Caroline Hanly, RN, as Health Services Supervisor
February 12, 2019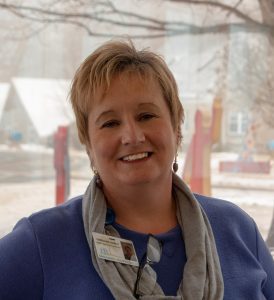 Spaulding Youth Center is pleased to welcome Caroline Hanly as its Health Services Supervisor. In this role, she will be responsible to provide oversight and expertise to the dedicated health services staff so that together, the department can continue providing the highest level of care to our students.
Ms. Hanly has over twenty-seven years of nursing experience, including management, education and mentoring of nursing staff as well as facilitating the on-going assessment of patient and family needs to implement a coordinated team care plan. She also brings extensive experience successfully collaborating in a team-based environment for residential, crisis healthcare and critically-ill patients to her new role at Spaulding Youth Center.
"We are thrilled to welcome Caroline Hanly to our health services department," said Robin Raycraft, Director of Clinical and Compliance at Spaulding Youth Center. "Her personal experience with our children as a campus neighbor and previous services provider is second only to her outstanding professional and compassionate experience. Caroline is an excellent culmination of hands-on experience, patient and family advocacy, and motivational mentor. She has already proven herself to be an asset to our program with her desire to provide the best care to the children we serve."
Prior to joining Spaulding, Ms. Hanly served as the Nursing Supervisor and Emergency Department Registered Nurse at LRGHealthcare in Laconia, NH. Earlier in her career, Ms. Hanly previously worked at Spaulding Youth Center as a per diem nurse. Ms. Hanly earned her Diploma in Nursing from Elizabeth General School of Nursing, and holds a wide variety of certifications, including Pediatric Advanced Life Support (PALS), Basic Life Support (BLS), Trauma Nurse Core Course (TNCC), Advanced Cardiac Life Support (ACLS) Certification, Neonatal Resuscitation Program (NRP), and Sexual Assault Nurse Examiner (SANE) prepared.
About Spaulding Youth Center
Spaulding Youth Center is a leading provider of services for children and youth with neurological, emotional, behavioral, learning and/or developmental challenges, including Autism Spectrum Disorder and those who have experienced significant trauma, abuse or neglect. Services include academic, behavioral health, residential, foster care, health and wellness and family support. Spaulding Youth Center is a tax-exempt 501(c)(3) nonprofit. For information about Spaulding Youth Center, visit www.spauldingyouthcenter.org.
Interested in Learning More About Our Vibrant Campus?
If you are interested in an insider's view of a day in the life of Spaulding Academy & Family Services, we recommend visiting our online photo gallery or our video gallery. These are updated weekly so keep checking back for more great Spaulding moments!