2020 Virtual Multicultural Celebration a Success
January 19, 2021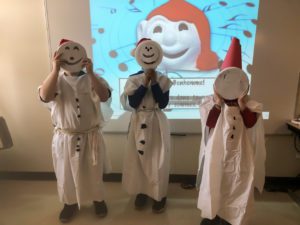 Spaulding Academy & Family Services (formerly Spaulding Youth Center) held its annual Multicultural Celebration – virtually – before the holiday break. All 12 classrooms at the Spaulding Academy spent weeks studying different cultural celebrations, including Diwali, France's Bastille Day, Hanukkah, Hawaii's Merrie Monarch Festival, Japan's Children's Day, Mexico's Day of the Dead, Scotland's Hogmanay, Thailand's Loi Krathong and Monkey Buffet Festivals, Turkey's Children's Day, and, as pictured, Quebec's Winter Carnival – featuring Bonhomme, the carnival's official mascot.
Due to COVID-19 precautions, students were unable to prepare festival-inspired food this year. Instead, they provided recipes to the dining staff, who featured each dish with its corresponding celebration name during a lunch in December.
"This cross-department collaboration is a wonderful example of how Spaulding staff work together to support our children in all aspects of their learning and development," said Colleen Sliva, MSEd, Principal and Special Education Director.
During the Multicultural Celebration, students showcased festival-inspired artwork and performed in costumes. For example, the class working on Quebec's Winter Carnival created virtual paper snowflakes, dressed as Bonhomme, played the "Bonhomme, Bonhomme" song, and performed as participants in Quebec's Winter Carnival parade.
"We are so proud of the dedication of our teachers in sharing diverse global cultures, festivals, and traditions with our students each year," explained Todd Emmons, President and CEO. "Their creativity provides our students hands-on, experiential learning opportunities that expand their knowledge, promote skill development, and build confidence."
Spaulding hopes to continue its annual tradition of inviting family, friends, and community members to the 2021 Multicultural Celebration.
Click here to read the Concord Monitor coverage of this news or click here to view a print-ready PDF.
Interested in Learning More About Our Vibrant Campus?
If you are interested in an insider's view of a day in the life of Spaulding Academy & Family Services, we recommend visiting our online photo gallery or our video gallery. These are updated weekly so keep checking back for more great Spaulding moments!