Rhoda Forrest – Crossing State Lines to Make a Difference
September 18, 2019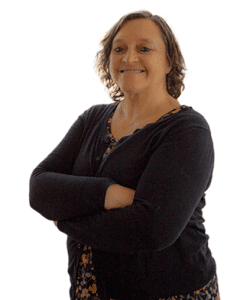 Rhoda Forrest has worked with children with special needs for over twenty years. She spent most of her career in Vermont working as a Reading and Writing Intervention Specialist, Speech Language Pathology Assistant and Paraprofessional. Rhoda never thought she would cross the border and work in New Hampshire until she learned about Spaulding Youth Center. Unsatisfied with the public school system in Vermont, Rhoda decided to take a leap of faith and accept a Speech Language Pathology Assistant position at Spaulding in November 2017.
Rhoda was given a warm welcome by Spaulding's Speech Language Pathology team and instantly felt a connection with her colleagues. The organization's caring, passionate environment made her lengthy commute from her home in Vermont worth every minute. She loves to see the progress the kids make, whether large or small. Rhoda's favorite thing about working at Spaulding is experiencing a nonverbal child being taught to communicate. She identifies the moment when she finally reaches them as the most amazing thing about her job.
Rhoda's inspiration for her work is her 32-year-old daughter, who is autistic. Raising her daughter provided her incredible tools and experience that help her be successful in her career. Because of her love for her job and Spaulding Youth Center in particular, Rhoda made the decision to sell her home in Vermont and move to New Hampshire.
In her spare time, Rhoda enjoys reading the bible, spending time with husband, David, and her friends, and playing with her beloved dog, sweetly named Little Miss.